Sports
2 Noticeable Things Cristiano Ronaldo Did On His UCL Debut For Manchester United Yesterday
2 Noticeable Things Cristiano Ronaldo Did On His UCL Debut For Manchester United Yesterday
Yesterday, Manchester United played against Young Boyz in their first Uefa Champions League group stage match as Cristiano Ronaldo scored his first UCL goal on his return to his former club(Man Utd). Before the game, Cristiano Ronaldo miss kicked a ball mistakenly hit a female steward in the stadium yesterday. The article states two noticeable things the Manchester star player did to appreciate the lady he hit with a ball during their club's warm-up that shows he has a good sportsmanship spirit.
Cristiano Ronaldo showed he doesn't just play football for money and fame but also cares for everyone around him after what he did in yesterday's UCL game. He has been seen showing such kind gestures to different players and people on the football pitch on several occasions. For sure, Cristiano Ronaldo is a wonderful player who cares for everyone around him.
1. He went up to meet the young lady he hit with the ball to check up on her condition after the incident happened.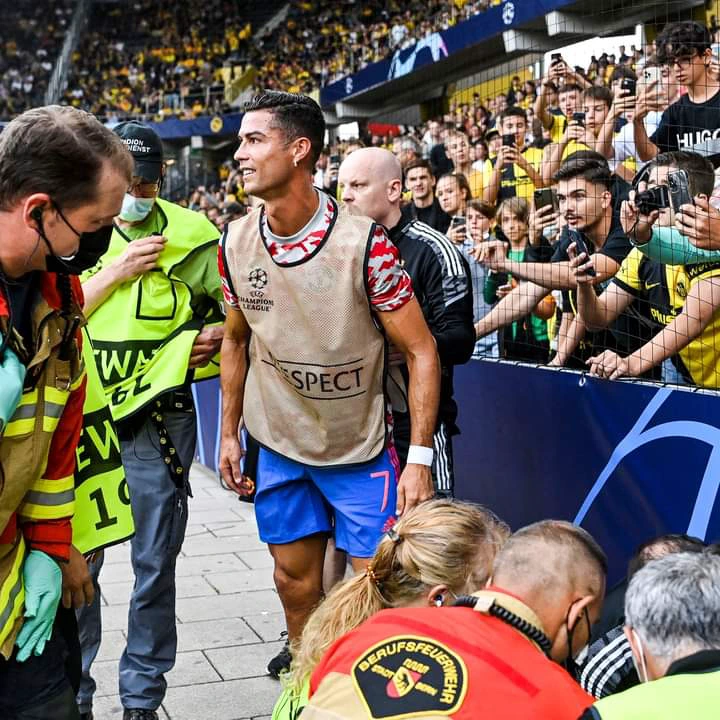 2. Cristiano Ronaldo gifted his shirt to the steward he hit with the ball during the warm-up before Tuesday's Champions League game against the Young Boyz team.