Review
Are You Planning To Open A Restaurant? – Then Learn How To Cook The Original Nigerian Pepper Soup Like A Pro
We are currently experiencing intense cold in Nigeria and in other parts of the world!, My roommates back in school days will say weather for two... lol! Whatever that means!
Are You Planning To Open A Restaurant? – Then Learn How To Cook The Original Nigerian Pepper Soup Like A Pro
Hello People!
We are currently experiencing intense cold in Nigeria and in other parts of the world!, My roommates back in school days will say weather for two… lol! Whatever that means!
What I'm trying to say is that you need warmth from every angle and what better way to get it than a simple bowl of CHICKEN PEPPER SOUP. 
As the name says, Nigerian pepper soup is very spicy Dish and it is not for the weak at heart.
This is the kind of broth even a doctor will recommend for you if you are not feeling too well or just recuperating.
I don't need to talk too much about this popular & spicy Nigerian delicacy often served at restaurants, parties and home.
We all know it's a versatile recipe that can be prepared with different types of meat, fish & assorted.
For example, there is Goat Meat, Cow Foot, Assorted meat, Beef, Catfish( also known as Point & Kill) Pepper soup and other types.
Listen, you don't have to go to any Restaurant or Local Beer parlours to eat this special Soup.
You can make it anytime and anyhow right inside your own kitchen.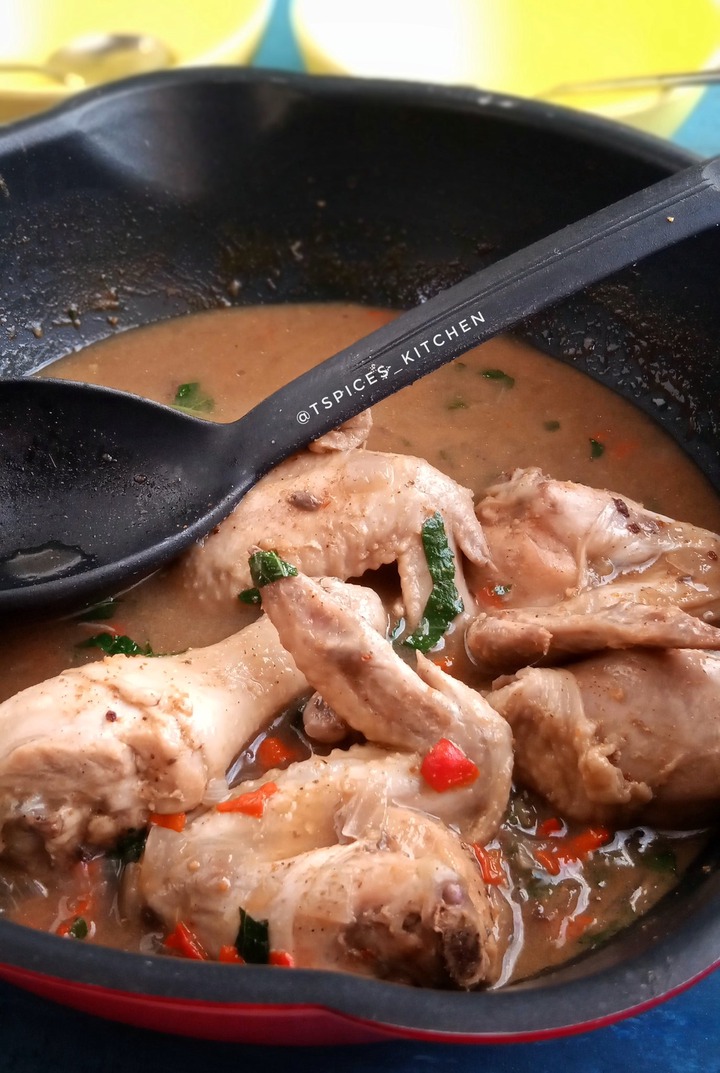 The secret of the unique taste and aroma that you love is in the Spice Mix.
Yes! The Pepper soup Spice.
Good thing is you can make them yourself.
Don't worry! I'll teach you how to make it in my next post.
So watch out for it and FOLLOW me now if you are not.
I know someone is eager to see the recipe.
Let's get right to it!
Look at your Ingredients below.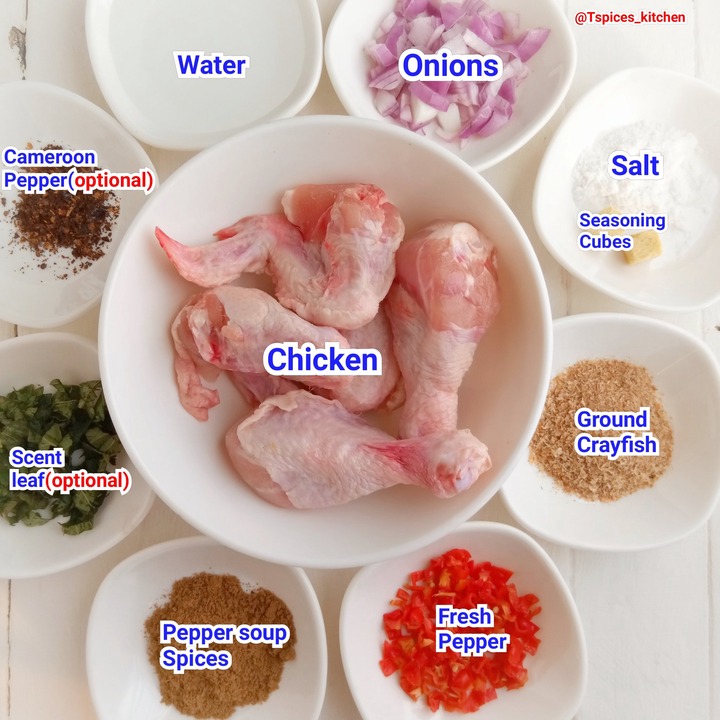 As you can see from the ingredients, I am making chicken pepper soup!
Chicken Parts
Chopped Scent leaf
Stock cubes
Ground Crayfish
Diced Onions
Salt
Chopped Fresh Pepper
Seasoning
Pepper Soup Spice Mix
This Soup is mainly liquid, so we start by boiling the chicken to extract the flavor from it like you'll see now in the first step.
STEP ONE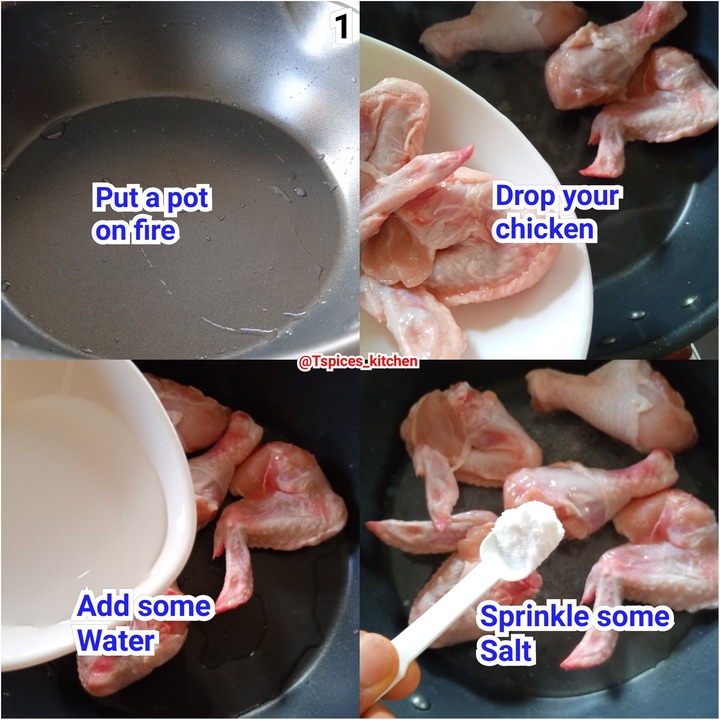 Put a clean pot on fire, pour the chicken parts in the pot.
For this tutorial, I did a mix of Chicken Wings and Drumsticks (thigh).
You can choose to use old layers or broilers for the chicken Parts.
Season first with salt and move to step two.
STEP TWO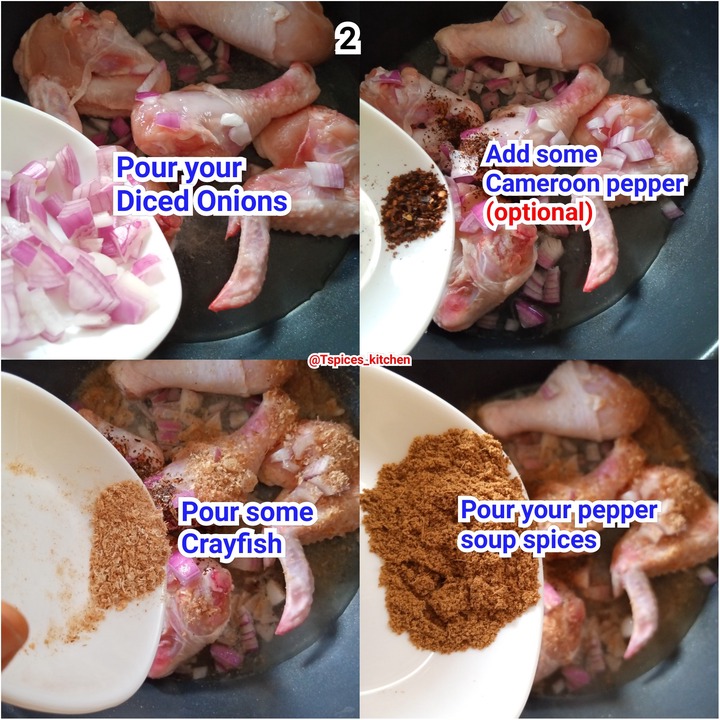 Add your Onions, Cameroon Pepper, Ground Crayfish and Pepper soup Spice.
Ouch! I'm feeling excited already just writing about this recipe.
Trust me, The hotness and spiciness of this soup will sure stimulate your taste buds and keep you coming back for more.
I almost forgot to add that the pepper soup spice can be gotten anywhere.
Just stroll into your Local market and ask for the pepper soup spice mix. It's readily available and very cheap too.
STEP THREE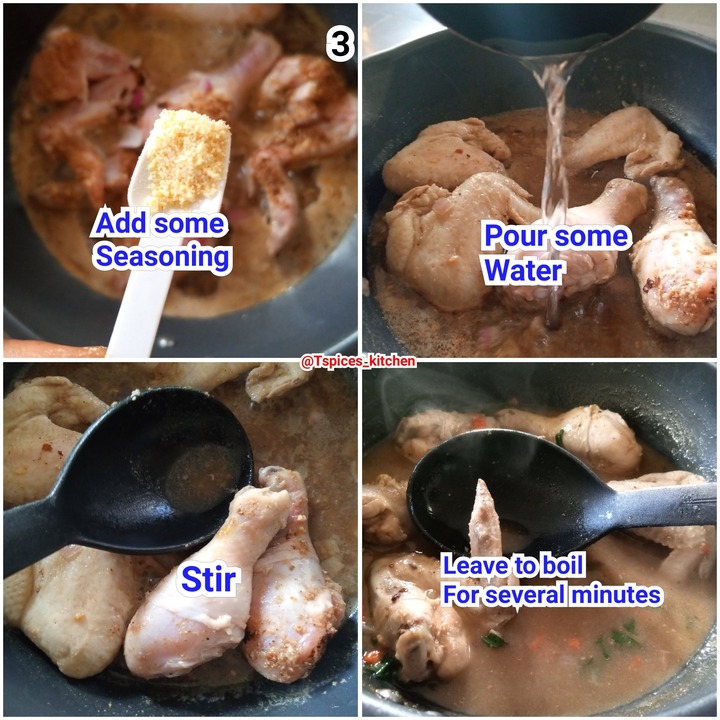 You are literally just mixing everything and leaving it to boil.
This is not a fixed recipe. It can be adjusted to your liking.
So season adequately, add water according to the quantity you want and allow it to boil for several minutes.
STEP FOUR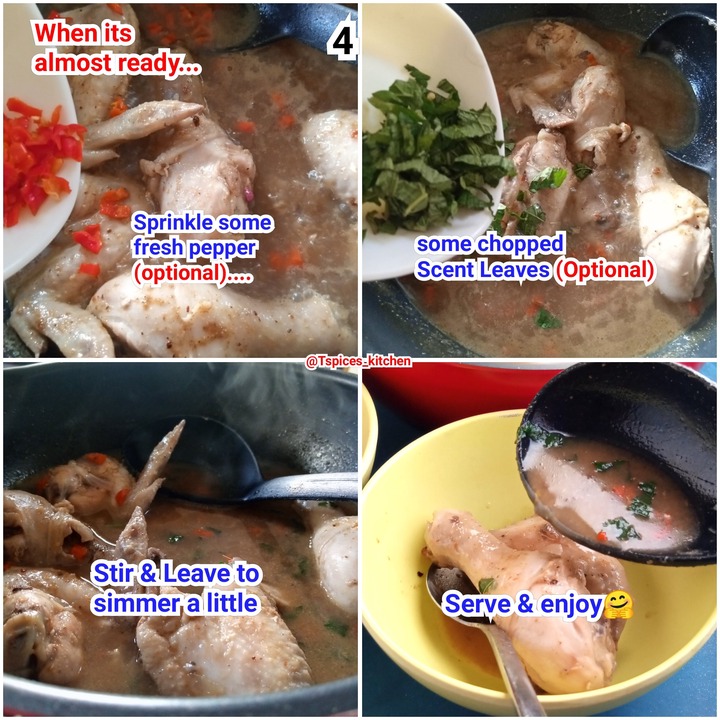 Add some fresh Habanero Peppers (Atarodo) to your broth.
This is to add an exciting fresh taste to your Pepper Soup and make it spicy. It's Pepper Soup after all!
The scent leaves add aroma and extra spice to your soup. You can substitute with what you want or leave out completely
Leave to simmer for a little while.
Serve and enjoy! 
Keep following Fabpulse we will never stop feeding you with latest updates ?