Business
Businesses You Will Never Believe Are Capable of Turning Lives Around
They are so many businesses existing in our society today that you will never believe can turn lives around. It is all about having an idea and striving to achieve your desired goal.

Businesses You Will Never Believe Are Capable of Turning Lives Around

They are so many businesses existing in our society today that you will never believe can turn lives around. It is all about having an idea and striving to achieve your desired goal.

The following are businesses people do that put food on their table and eventually turns their life around.

Some of these businesses do not hinder them from doing other things like having a full time job.
Sharer:
There are people working in big markets as sharers.
People involved in this type of business are mostly women. They leave for this market early in the morning, as they wait for people who buy goods probably in baskets or bags. Their job is to help two or more buyers share either basket of tomatoes, bag of garden eggs, onions, pepper e.t.c.
After sharing, the buyers contributes equal amount of money to pay the sharer and they both believe the sharing is equal since it was shared by a third part.
A sharer makes money only when people decides to buy and share goods. These sharers are mostly spotted in big fruit markets.
This type of market is an early morning market where they make their money and still, returns back to their various daily activities.
Plantain chips supplier:
You won't believe this business spills money. The hawkers of plantain chips are seen as just mere hawkers but, do you know they have their group just like a union? Do you know these hawkers comes to their suppliers in large numbers to buy chips? Do you know these hawkers do not fry or package this chips themselves? Do you know these hawkers buys chips from women who comes from far distance just to supply these chips? If you are conversant with Abuja, could you imagine coming from Zuba to supply plantain chips in Nyanya, Abuja. That is how far these women drives just to make plantain chips supply. Though, it may be different in other locations. What does that tells you? It means the business is money spilling. Do you know the beautiful thing about this business? During the season of plantain, the chips nylon is big but, during the scarce period of plantain, the nylon is small. This is to enable the plantain hawkers make profit despite the season. Another interesting thing about this business is that, the supply of plantain chips is done early in the morning to enable plantain hawkers, hawk their goods in the early morning traffic jam resulting from workers going to work.
Another amazing thing about this business is that, the ingredients you need for your plantain chips are just available in any major plantain market. All you need do is to ask. Truely, this business is profitable for both a plantain chips supplier and a plantain chips hawker.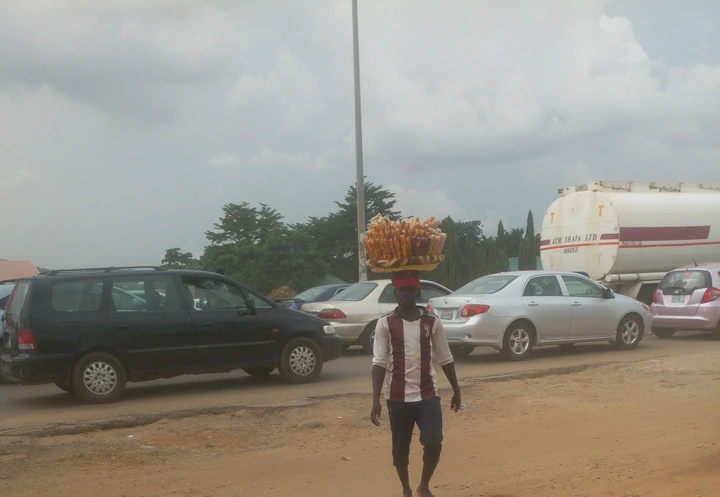 Mobile Educationist:
This is another amazing idea people with special skills uses to make money. They do this by becoming their own boss. Some of them do online education programs through personal blog, some of them are consultants in their fields for example, phonix teacher who will rather teach in different private schools instead of spending his/her time on one school with little salary.
Farming:
Do you know they are people who specialize in just farming pumpkin vegetable leaves (ugu) and waterleaves in urban areas like F.C.T. and other places too. Am not talking about those who farms in rural areas.
Now, how do this farmers sell their products?
– They go to markets, and advertise their products to those in the vegetable lines, who in return patronizes them.
– They also advertise themselves to hotels and food canteens.
– They can also sell to household.
Forex Trade:
This is one of the ways some unemployed youth uses to generate money. Those involved in foreign exchange buys and trade currency at the current or a determined price. It is risky but can be profitable too. You might not know how to trade but you can hire someone to trade for you and pay the person some percentage of profit made.
Agency Business:
These are people who serve as agents to an organization or an individual e.g POS agents to banks, property agents etc.
If you want to go into property agency business. Get a property owner who is willing to give you an authority to sell or lease his/her property, register the property in some property advertisement apps on internet. Who knows? one day the property can catch the eye of an interested buyer who may end up buying or leasing the said property.
Export Business:
This type of business requires registration with Nigerian Export Promotion Council (NEPC). The agency can link you up with willing buyers on request.
You can export the following:
– Garlic
– Sesame seed
– Charcoal
– Mushrooms
– Yam e.t.c
Mobile Househelp:
These are cleaners who goes from house to house doing chores for people on payment. Some people involved in this type of job comes around when their employers are available so they can do their chores especially, weekends. They have a large number of clients and can work for two or three families per day. They leave after completing their chores and received payment at the end of the month. Some employers of these peoples specifies their task for example, it can be washing of clothes, house cleaning or even cooking. It all depends on the agreement.
Motorcycle Business:
There are people who buys motorcycles for hirers. They make their money from remittances paid by the hirers. There is alway an agreement between both parties in this type of business, and so will a lawyer be involved.
Tricycle Business:
Entails leasing of tricycle to hirers who pays at an agreed period of time.
Wheel barrow business:
This business is so interesting because it generates income for wheelbarrow owners every day.
There are people who have fifty customized wheel barrows in some markets. Every market day, these barrows are leased to traders who do not have shops but would prefer hawking their goods with wheel barrows. Do you know that the wheel barrow pushers you see in the market are major clients to these wheel barrows owners. Can you imagine how much they generate everyday. It's awesome.
Do you like Fabpulse? We count on you! Follow us on Googlenews, And get 1k.
Click Here,
and Click the Star.
Back to top button