Sports
Cristiano Ronaldo And Kane's Market Value Declines In the Premier League Market Value Update

Cristiano Ronaldo And Kane's Market Value Declines In the Premier League Market Value Update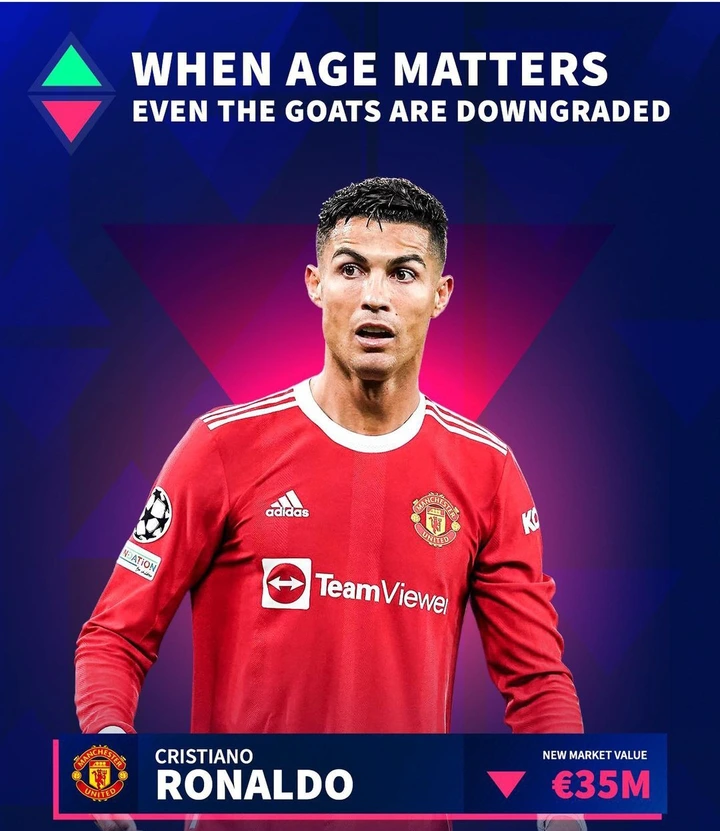 The market value of Premier League players has been updated by Transfermarkt, and it appears that many top players have lost value. Cristiano Ronaldo has been phenomenal for the Red Devils since the start of the season, but his market value has dropped because he will turn 37 in a few months. Age has a significant impact on the market value of players, regardless of whether they have won the Ballon d'or five times. Cristiano Ronaldo's current market value is 35 million Euros, and it is possible that this figure will fall in the coming seasons.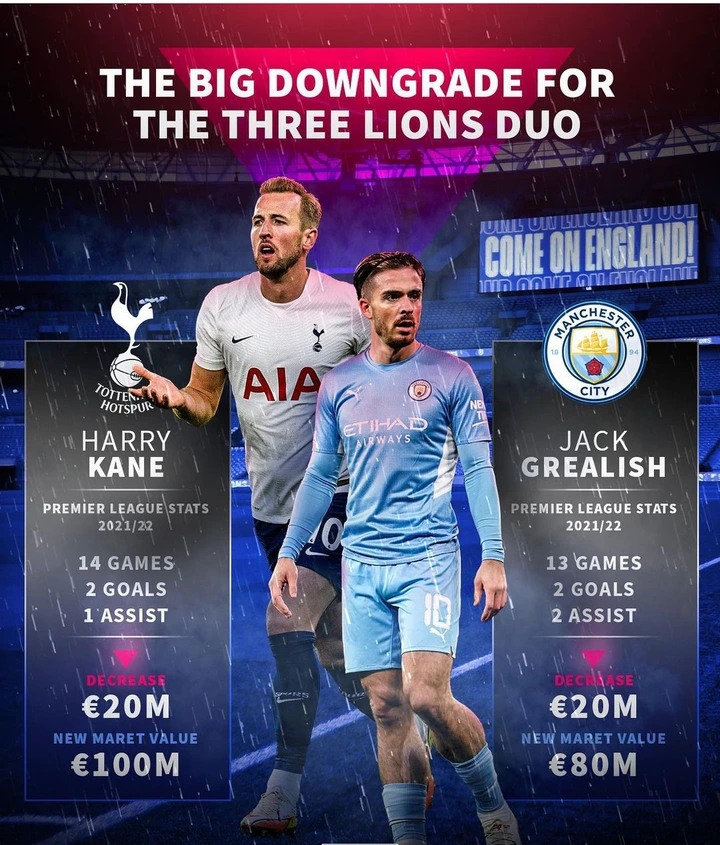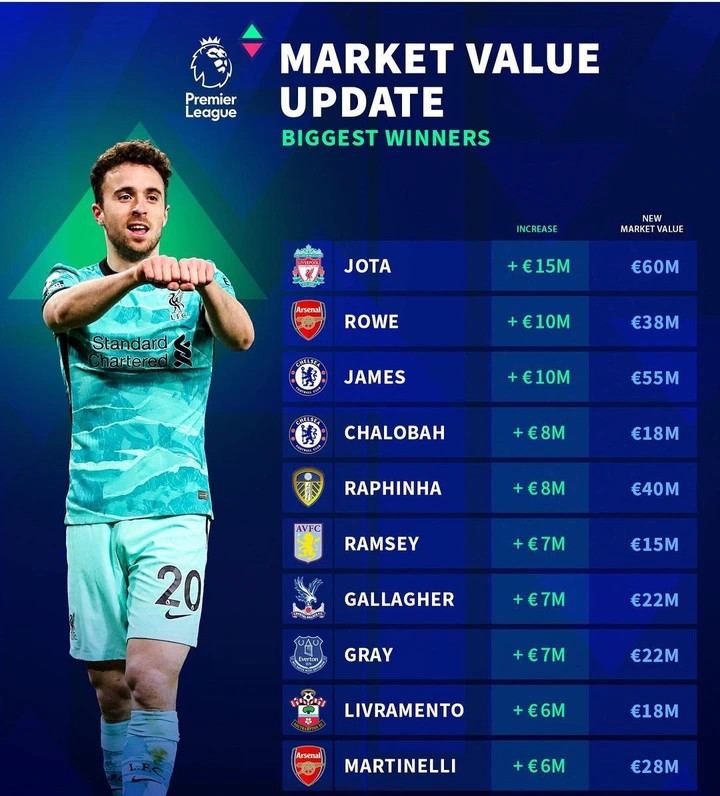 Harry Kane and Jack Grealish were also downgraded significantly in the Premier League market value update. Kane's value has dropped as a result of his poor performance this season. The Tottenham Hotspur striker has two goals and one assist in 14 games. However, Jack Grealish moved to Manchester City for more than 100 million Euros and has failed to live up to expectations. The winger has two goals and two assists in 13 games. Harry Kane's new market value is 100 million euros, while Jack Grealish's is 80 million euros, as a result of his poor performance.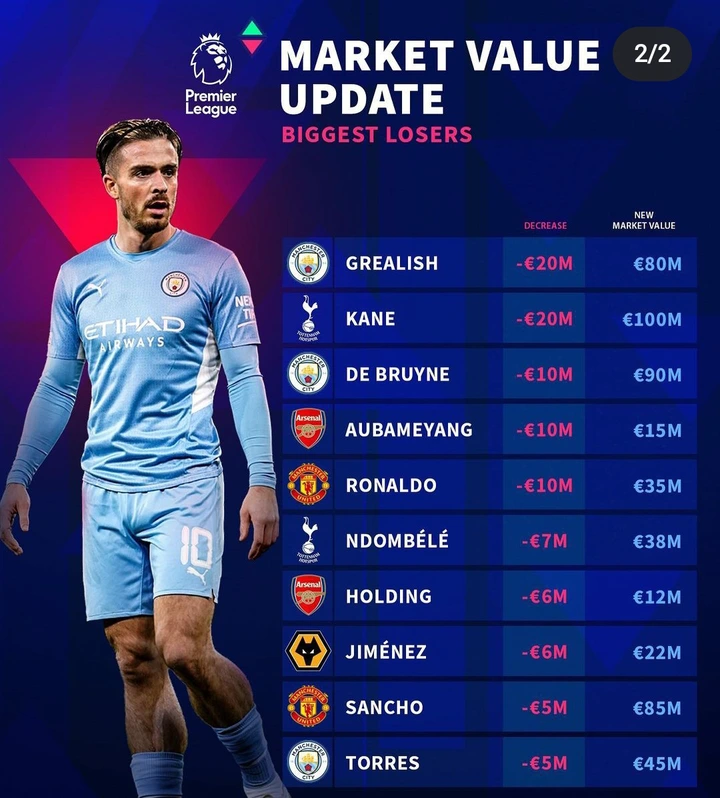 The biggest winners in the recently updated market value are Smith Rowe, Diogo Jota, and Reece James. At least ten million Euros was added to the value of these three players. You'll agree that Reece James and Jota deserve a raise in their market based on the number of goals they've scored this season. Martinelli, Ramsey, Chalobah, and Raphinha are among the players who have seen their market value rise by at least 6 million Euros.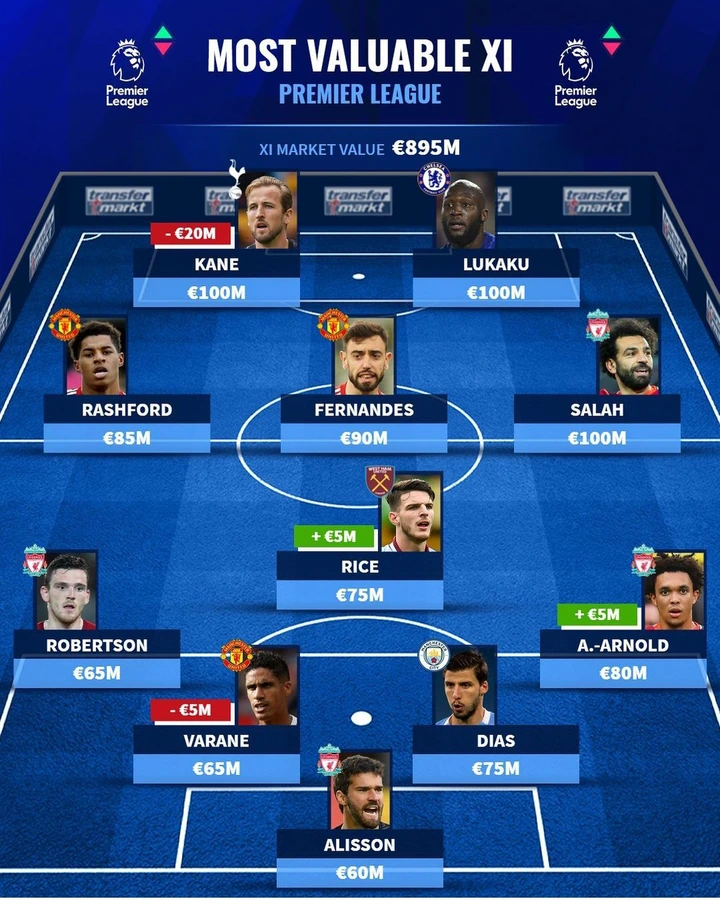 One of the players whose market value has dropped is Pierre-Emerick Aubameyang. The Gabonese striker is reaching the end of his career and has failed to contribute to Arsenal's success this season. He is currently embroiled in a feud with Mikel Arteta and was left out of Arsenal's most recent match. His market valuation has dropped to 15 million Euros. Due to poor performance, the market value of Jadon Sancho and Kevin de Bruyne has decreased. However, the market value of Bruno Fernandes, Marcus Rashford, Mohammed Salah, Lukaku, and Ruben Dias remained unchanged after the market value update.