Review
Do You know You Can Make A Lot Of Money Through Pig Farming? LEARN MORE
Cultural and religious believes has being of tremendous effect to the consumption of pork meat in Nigeria. There has been a lot of questions and condemnation, if this meat is right or wrong to be consume by a Christian or the Muslims. 
Do You know You Can Make A Lot Of Money Through Pig Farming? LEARN MORE
Starting a Piggery Farming Business in Nigeria
Cultural and religious believes has being of tremendous effect to the consumption of pork meat in Nigeria. There has been a lot of questions and condemnation, if this meat is right or wrong to be consume by a Christian or the Muslims.
Because of this, there have being a lot of question asked over the years. Yet, pork meat is still one of the most sought-after meat in the country. It is however interesting, how most of its consumers shared and express their experiences at eating pork meat. "Tasteful & delicious meat".
With these, piggery farming is worth having, since the weather condition and geographical location of Nigeria is very suitable for pig farming. Considering some other advantages like the reproduction period and system of pig is faster than any other livestock like cattle or goats.
Pig can convert more energy/nutrient into protein, as a result they grow faster than cattle, goats or other livestock animals. Pigs can survive and produce more by consuming little amount of low-quality foods. You can feed them roughage, kitchen garbage, agricultural waste etc. for the purpose of reducing feeding cost
So, if your interested in starting a piggery farming in Nigeria, here are the perquisite and procedures to take in having a successful piggery farming agribusiness.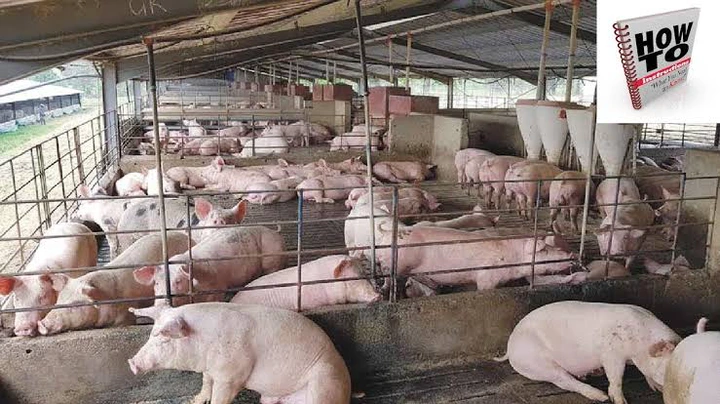 How to start a piggery farming business in Nigeria
Piggery farming is less competitive compare to any other livestock farming like cattle farming, poultry farming and other livestock farming in Nigeria.
You can start earning a living through piggery farming with very little amount, either domestically or commercial, determining on how much you want to invest. If you wish to start commercially, then this are guidelines to successfully start a pig farming in Nigeria, listed below.
1. Get Trained on Piggery Farming
A good starting point for a piggery farming is to enroll for a training before starting at all. Proper training will equip you on how to manage the piggery farm. Getting trained will give you knowledge on different kind of pig's species, what meal to feed them, how to control disease and keep the pigs healthy.
Although acquiring a comprehensive training could be expensive or requires you traveling within interstate. This will consume more time and cost, so you can devise an alternative by reading through some blog posts, watching videos on YouTube and other relevant medium.
2. Visit other Piggery Farms.
After you must have completed your piggery farming training, you will have to check through other piggery farming Businesses in your area, to see how things are done.
In as much, you've read and learn from several source, it is important to visit minimum of two (2) or three (3) piggery farm closes to you. The importance of all this is to prevent you from losing money at the beginning of starting up. You can as well get a mentor to put your through tough times.
After you might have gotten some full details on piggery farming in your location. Then you have to start planning on establishing your own piggery farm.
3. Write a Business Plan for your piggery farming
Any business that want to succeed needs a business plan. The importance of a business plan can't be neglect for any business. Starting a piggery farming Business comes with a lot of planning and strategical implementation.
So, it necessary to have a business plan to successfully run a piggery farming in Nigeria, all research and strategy found will be written in a business plan. This will serve as guide, and blueprint to successfully run a profitable piggery farming.
Below are the components needed in writing a piggery business plan
– Executive summary
– Company overview and description
– Market analysis
– Business offering (product & services)
– Team Management
– Marketing and Public Relations strategies
– Financial projection
4. Get Funding
Funding a piggery farming agribusiness isn't an easy task, but with a comprehensive perfect business plan you can acquire funding through bank loans, investors, partnership, sponsorship and other relevant means. There are also opportunities for grant offers, funding from relatives and friends.
#5. Get a Suitable Location
Before starting a pig farming business in Nigeria, you should consider a perfect location. The choice of land size will depend on the scale of your intend pig farming business. The more pigs you want to raise, the larger the size you will acquire.
Then, Divide the land into several plots; this will help you to raise different aged pigs separately. It will be better, if you can select a land far from residential areas because, pigs produce awful odur. Calm and quiet place will be very effective.
6. Build a conducive housing
Just like every other livestock, building a conducive housing is very important for any commercial pig farming in Nigeria. Pigs are very sensitive to heat and they may become sick and die due to excessive heat or cold temperature. Controlled and moderate temperature can help to maximize the growth and production for pig farming business.
Pigs can be raised both in indoors or in individual stalls, pens and barns. In case you want to raise the pigs outdoor, you must provide a special type of shelter during hot and cold weather. Pigs generally like dry bed. So, always try to keep the house and bed dry. Also make a suitable system for protecting from extreme humidity, heat and cold.