Sports
EPL: How Brendan Rodgers And Zinedine Zidane Could Lineup At Man United As Solskjær's Replacement
EPL: How Brendan Rodgers And Zinedine Zidane Could Lineup At Man United As Solskjær's Replacement
According to several reports, Ole Gunnar Solskjær could be sacked at Manchester United, before the ongoing international break ends this month. Meanwhile, the Red Devils haven't given any word as regards the Norwegian manager's future at Old Trafford, but it's most likely that he will leave the club based on his 2-0 defeat against Manchester City.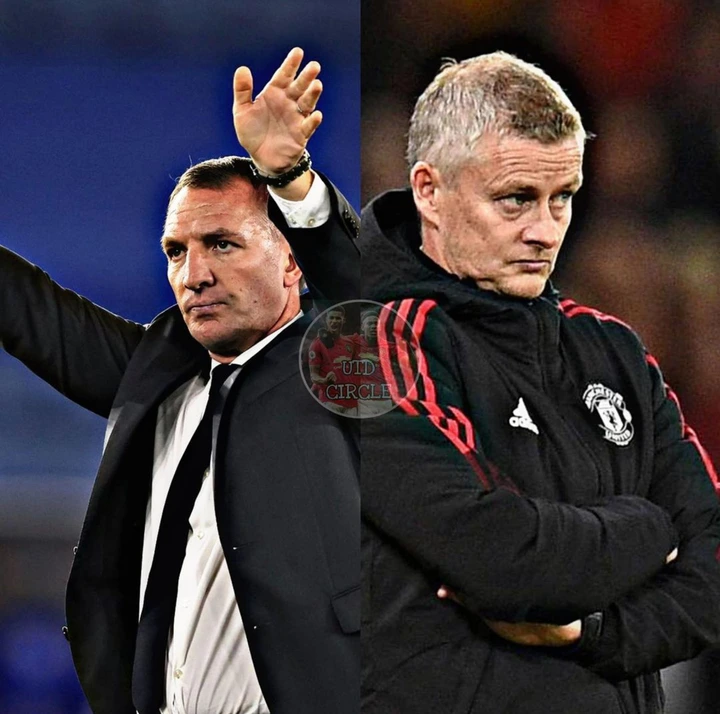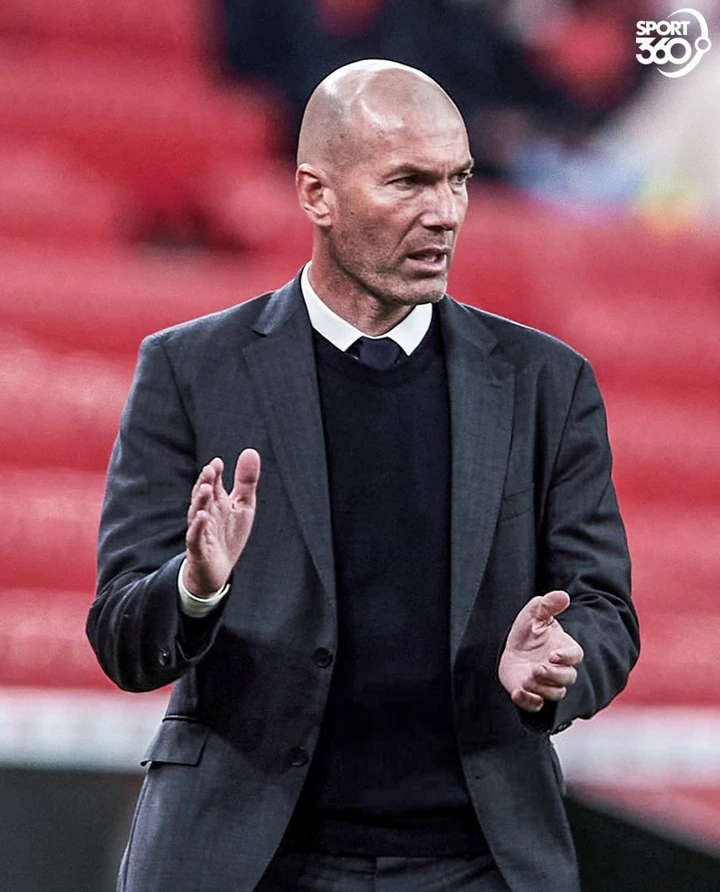 Of course, Manchester United have apparently lost Antonio Conte to Tottenham. However, the likes of Brendan Rodgers and Zinedine Zidane are still amongst the candidates to replace Ole Gunnar Solskjær at the club. As a result, there are ways these coaches could respectively lineup at Old Trafford, as they are all elite and experienced managers.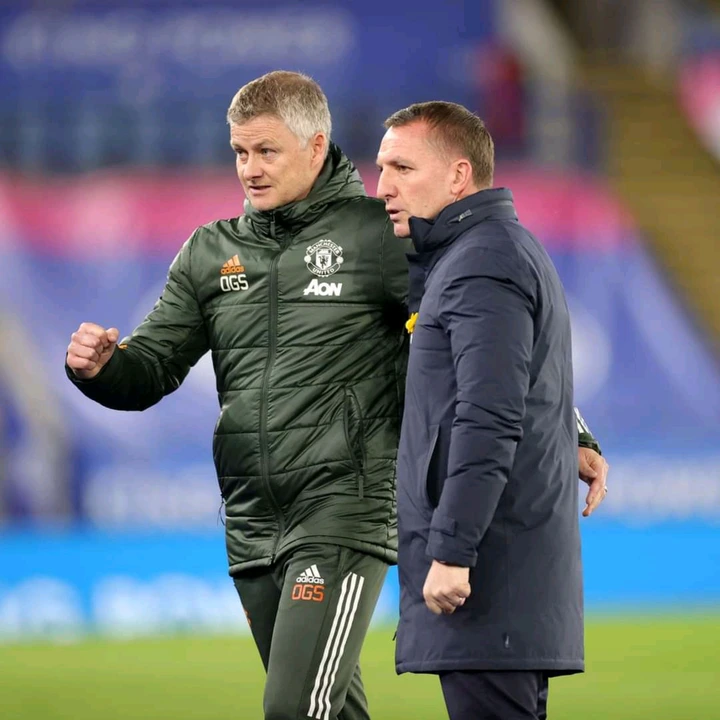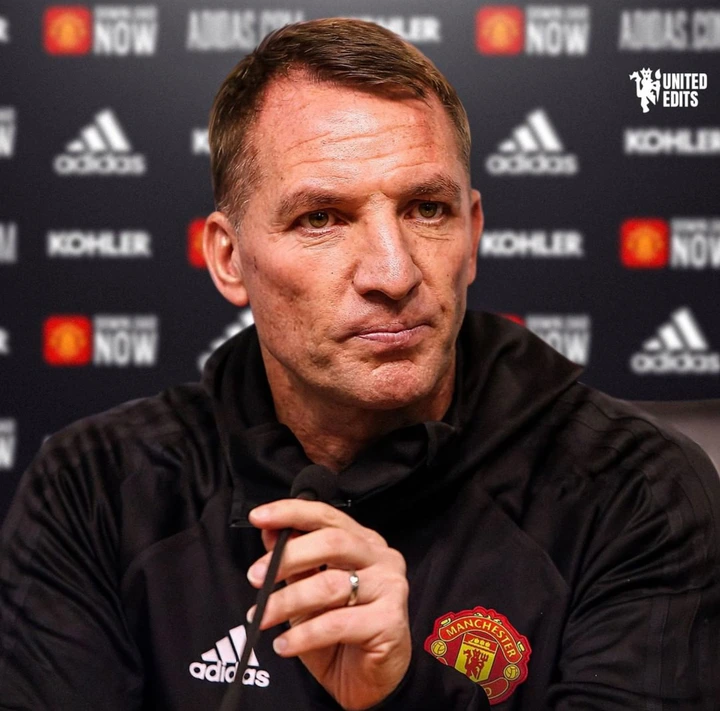 Without being biased, these two gaffers are fond of playing an attacking style of play, having seen their performances at their current clubs. With all that being said, the French and Northern Irish gaffers could lineup at Manchester United, in line with the formations below. In all fairness, they are all able to break the deadlock at Old Trafford, by winning the Red Devils' first trophy since 2019.
Brendan Rodgers – Formation of 4-1-4-1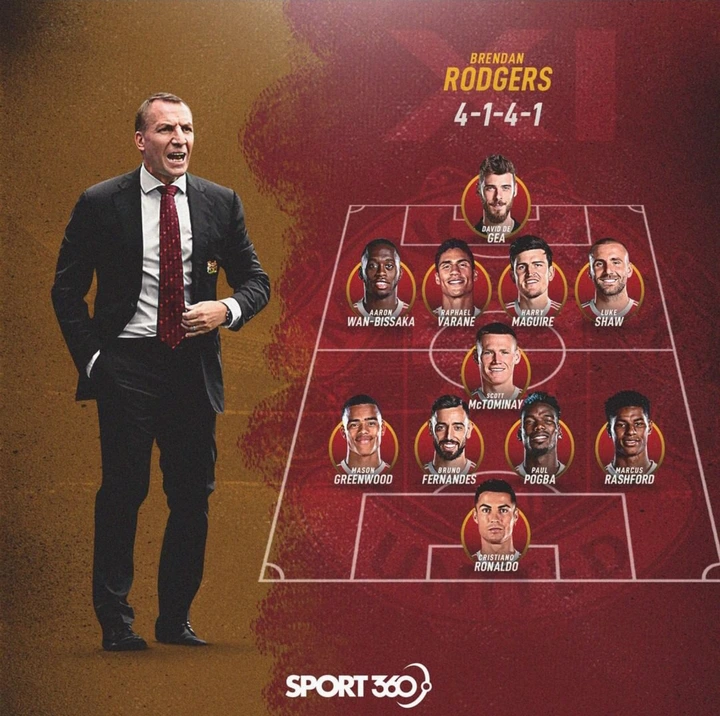 The Leicester City's boss is quite a successful manager, as he won trophies with Celtic and bagged two FA Cups with the Foxes in England. Having been amongst the candidates to replace the Norwegian gaffer at Manchester United, he may use the formation of 4-1-4-1 based on his tactics at Leicester City. As a result, David De Gea continues as the No.1 goalkeeper, while Wan-bissaka (RB), Varane (CB), Maguire (CB), Shaw (LB) anchor the defense line. In addition, the midfield will be occupied by McTominay as a single defensive player, while Greenwood, Fernandes, Pogba and Rashford dazzle as attackers. Therefore, Ronaldo will start as a central-forward, as he has the ability and capability to anchor the striking role. Brendan Rodgers always wants to attack and defend at the same time, so Paul and Bruno will do double work on the pitch, as they will play as attackers and midfielders. With that being said, Mason and Marcus will play widely up-front, so as to create enough space for Cristiano.
Zinedine Zidane – Formation of 4-3-3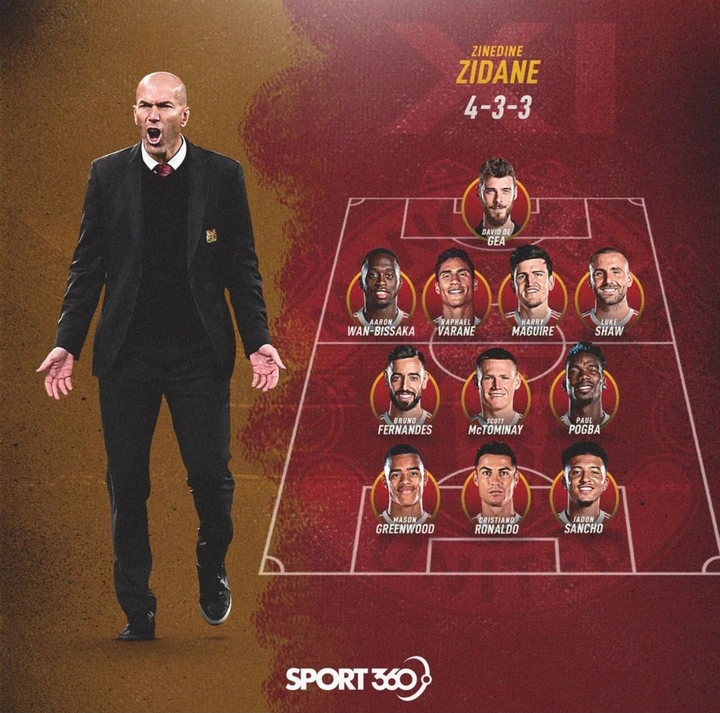 The French gaffer won 11 trophies at Real Madrid, including 3 UEFA Champions League trophies and 2 league titles, and that's literally a trophy every 19 matches. Without being sentimental, Zinedine Zidane has the ability and capability to restore Manchester United's lost glory in Europe's top-5 leagues. Meanwhile, the former Real Madrid boss usually goes with the formation of 4-3-3, having seen how he played his tactics in LaLiga. As a result, the four defenders will play in their usual defensive positions, while Fernandes, McTominay, and Pogba play as midfielders. In this situation, the Scottish baller will play as a defensive midfielder, while the Portuguese and the Frenchman will move forward to attack the opponent's box. Zinedine Zidane loves to have sharp attackers from the wing sides, so Mason Greenwood drives from the right-wing, Jadon Sancho cuts from the left-wing and Cristiano Ronaldo continues as the No.9. Having seen the French manager's all-around statistics at Real Madrid, he's able to replace Ole Gunnar Solskjær by taking the Red Devils to the next level.
Which one of these managers do you want as Ole Gunnar Solskjær's replacement?
Drop your comments below.