Sports
Hope for Chelsea in Rudiger's contract talks following recent reports

Hope for Chelsea in Rudiger's contract talks following recent reports

Salvaging Rudiger's Chelsea situation is not out of reach as latest report suggests that the Germany defender could still be a Chelsea player come next season.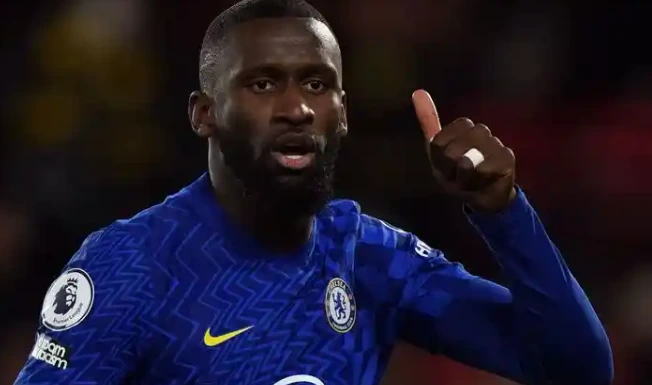 Chelsea are currently sweating over the contract situation of Antonio Rudiger as the former Roma star is now in the final six months of his contract and is fast approaching free agency
Why have Chelsea failed in getting Rudiger to sign a new deal?
The Blues have failed in all their attempts to get the 28-year-old to sign a new contract but the fault is not all theirs.
According to reports, Rudiger wants Chelsea to make him one of the top three earners at the club, alongside Romelu Lukaku, Thiago Silva, Kia Harvertz and others but that is a difficult thing for the club to do as they are not willing to upset their wage bill.
Clubs interested in Rudiger.
Multiple reports this week has claimed that Spanish La Liga side Real Madrid, Italian Serie A side Juventus, French Ligue 1 side Paris Saint-Germain and German Bundesliga side Bayern Munich are all interested in signing the Chelsea man and have already had talks with him.
Also, FC Barcelona are looking to enter the race for his signature, with new Barcelona boss Xavi Hernandez willing to add his quality and experience to his squad as they look to finish in top 4.
How has Rudiger reacted to these interests and the ongoing talks about his potential exit?
Antonio Rudiger is very much aware of the multiple interest in him, but has kept his head low and have been very professional for Chelsea, offering his full services to them in and off the field of soccer.
Furthermore, multiple reports have claimed that Rudiger is not willing to reach any pre-contract agreement with any of the clubs that are interested in him yet.
With the winter transfer window ongoing, Rudiger is free to hold talks with interested clubs and also agree terms on joining any of them.
What does this mean for Chelsea?
This means that there is still hope for Chelsea to tie him down to a fresh deal before he leaves the club as a free agent at the end of the season.
Rudiger is 28 now and will be 29 in March and knows his next contract could be the biggest one of his career, so if Chelsea are not willing to offer him that lucrative contract then he is likely to bounce.
However, the recent report entails that their is still possibility that he would be a Chelsea player by the start of next season, its now down to Chelsea to make it work as the ball. Is now in their court.