Review
Important Notice For Those Who Wish To Apply For The Nigeria Youth Investment Fund (NYIF)
The Federal government had flagged off the application portal for the Nigeria Youth Investment Fund over a week ago, in this month of October

Important Notice For Those Who Wish To Apply For The Nigeria Youth Investment Fund (NYIF)

The Federal government had flagged off the application portal for the Nigeria Youth Investment Fund over a week ago, in this month of October. This implies that applications are now open for the Federal Government's N75 billion Nigeria Youth Investment Fund (NYIF).

This initiative is funded by the Central Bank of Nigeria (CBN), which was launched by the Federal Ministry of Youth and Sports Development (FMYSD) in order to provide investment loans to youths and youth-owned businesses in Nigeria.

The application covers two categories of which Individuals or non-registered businesses can access up to N250,000 in funding while the Youth-owned registered businesses can apply for up to N3 million. The loans which will be granted to persons who apply for any of these two categories will run for a maximum of 5 years and will attract an interest rate of 5% per annum.

An important thing to note about this facility is that, not everyone is eligible for the loan. In other words, while the loan facility is exclusively for the youths, not all youths can apply for it, hence in this article I will talk about the eligibility and also give a few guidelines on how those who are eligible can apply for the loan.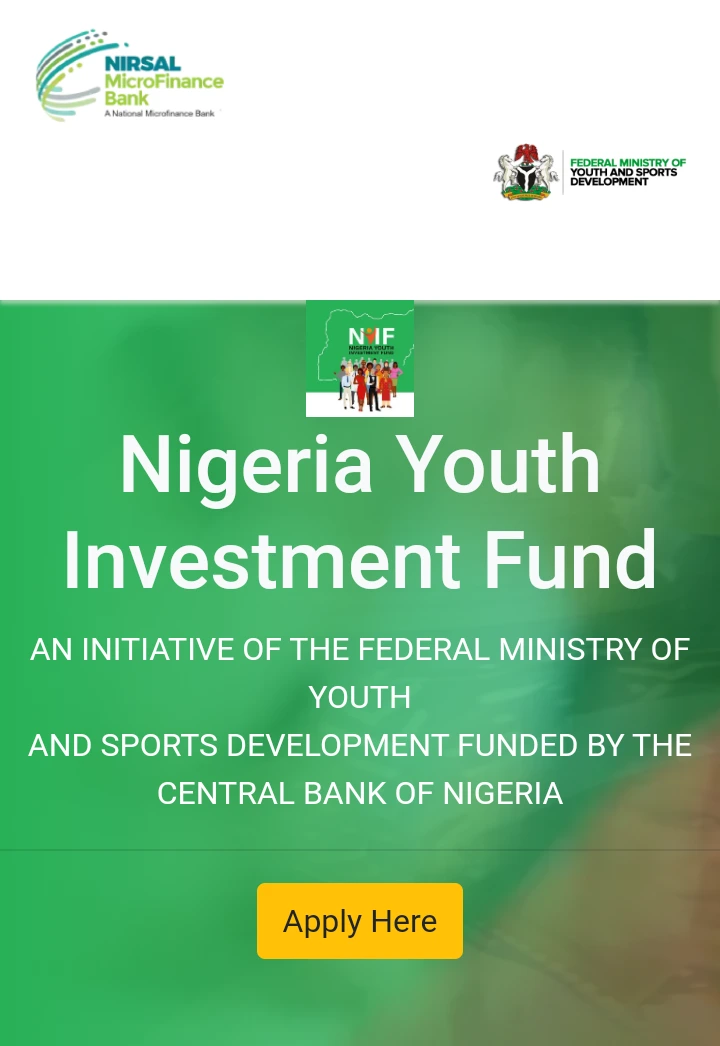 Eligibility
1) Youths who are applying for the loan as individuals or sole proprietors must be within the age bracket of 18 to 35 years and must definitely have businesses in Nigeria which are operational. Please take note of this, it is important.
Another criterium that must be met in order to qualify for this loan is that they must not have any record of being convicted of any financial crime in the last 10 years. Also, they must possess a local government of origin certificate.
2) For youth-owned enterprises, it must be that they are duly registered with the Corporate Affairs Commission (CAC). Consequently, they must provide a business plan. Also, they must have a Tax Identification Number (TIN) and a training certificate from approved FMYSD Entrepreneurship Development Institutes (EDIs). This is a very vital information that youths applying for this category must take note of.
However, as a general notice to all applicants, they must have a valid Bank Verification Numbers (BVNs) for them to be eligible.
Having given these details above, some persons are already eligible and qualified for it. So, how then can one apply for this loan facility?
How to Apply
I will provide five (5) easy steps with screenshots which you can follow in order to apply for the loan, that is the Nigeria Youth Investment Fund (NYIF):
You can make use of your mobile smart phone as far as you have a good internet connection. You can also use a computer that is connected to the internet to apply for it.
Note that all applications should be done through the NYIF portal.
Follow these steps
1. Log on to the application portal.

2. Enter your first, middle and last name (surname). Also input your 11-digit BVN correctly in the space that have been provided for that information. Then click on "Next" to continue.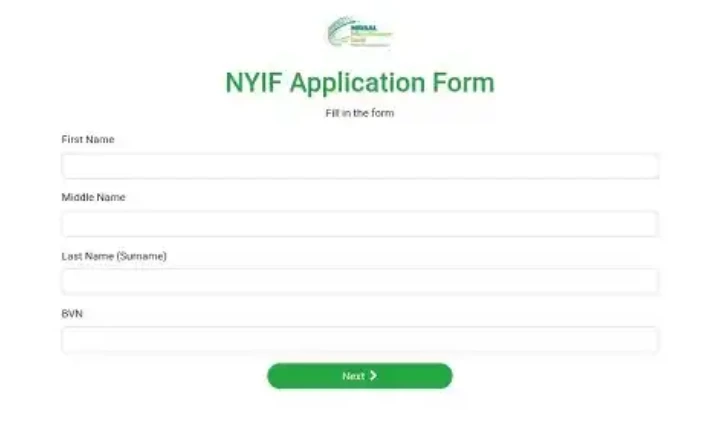 3. If your BVN has been successfully verified, you will discover that your date of birth will automatically load at this point of your application. You can now key in your phone number, email address and then select your gender.
After this has been done, fill in your residential address, state and local government area. Note that it is the house address, state and local government area where you live. Cross check the details which you have filled in order to ensure that there are no errors. Then click "Next" to continue.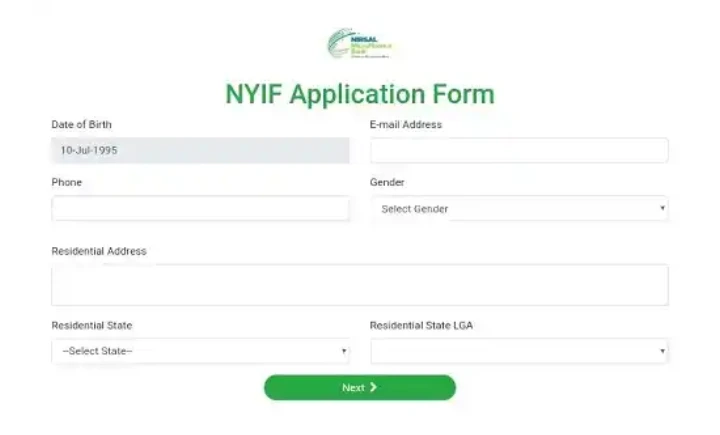 4. Now, enter your geo-political zone – North West, North East, North Central, South West, South East or South South.
Next, select your state of origin and local government area of origin. Note here, that the information here are different from the ones you filled in step 3. Here, you are required to fill in your state and local government area, that is where you come from.
Also, choose your highest educational qualification and then click on "Next" in order to move on to the final stage of the application process.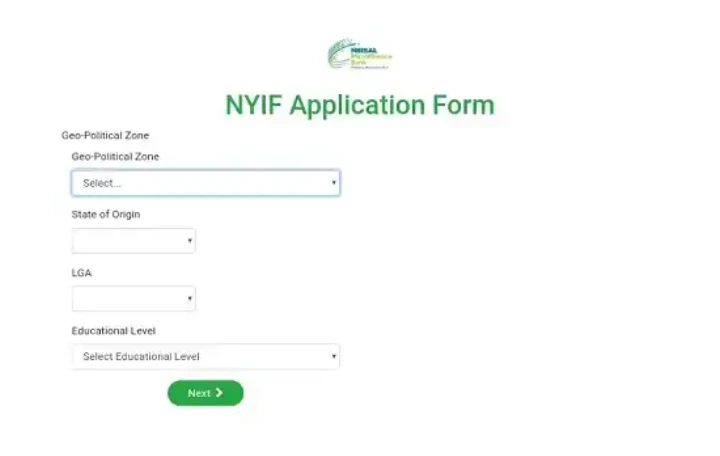 5. Here, you need to select your Training Centre and then Submit. It is the final stage of your application. All you need to do is to choose a preferred training centre and also how you heard about the Nigeria Youth Investment Fund (NYIF).
Note that the 5-day training is free of charge, and it will be held online. Check (tick) the declaration box and then click on "Submit" to finish.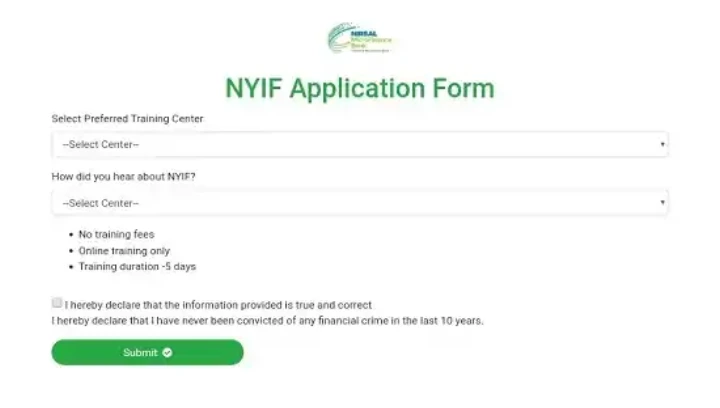 You should then see a message of congratulations to show that you have successfully applied.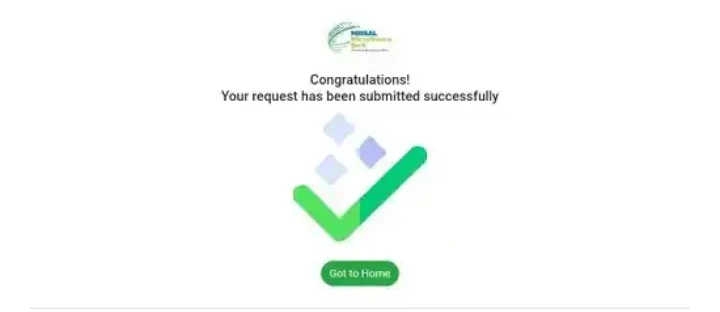 With these five simple steps you can apply for this loan facility.
Do you like Fabpulse? We count on you! Follow us on Googlenews, And get 1k.
Click Here,
and Click the Star.
Back to top button