Review
Jeff Bezos, The Richest Man On Earth: See His True Life Story That Might Inspire You
Jeff Bezos, The Richest Man On Earth: See His True Life Story That Might Inspire You
Jeffrey P Bezos was born on January 12, 1964 in Albuquerque, New Mexico. His mother was still very young when she gave birth to him and her marriage to his father didn't last a year. She remarried when Jeffrey was four years old, his stepfather, Mike Bezos was born in Cuba and escaped to the United States alone at age 15 then later worked his way through University of Albuquerque. When he married Jeff's mother, the family moved to Houston where Mike Bezos became an engineer for Exxon. Jeffrey's maternal ancestors were part of the early settlers in Texas and acquired a 25000 acre ranch at cotulla. Jeff's grandpa worked as a regional director at atomic energy commission in Albuquerque then he later retired to their family ranch. Jeff later spent most parts of his youth on that ranch, doing many tasks he was required to.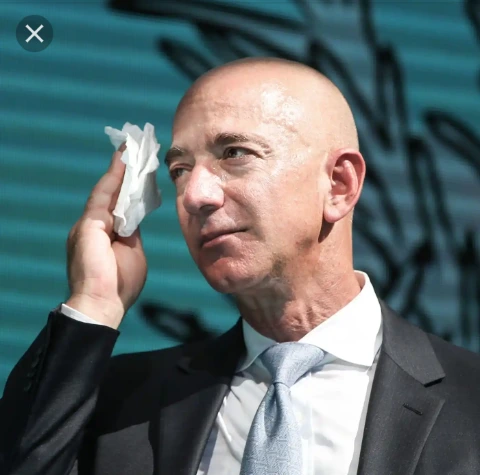 Jeffrey was very talented since he was a toddler, he once displayed mechanical prowess by dismantling his crib with a screwdriver. When he grew older, he rigged an electric alarm in his room and also converted his parents garage into a science lab for his projects. His family later moved to Miami in Florida where Jeff attended high school, he later fell in love with computers and became an outstanding student. He gained admission at Princeton University where he planned to study physics but later returned to his love for computers and graduated with a degree in computer science and electrical engineering.
His work history
He gained employment at Fitel on wall street where computer science was in high demand. Fitel was a start up company that was building a network to conduct international trade. He was placed in the finance department where he rose to the post of a vice president.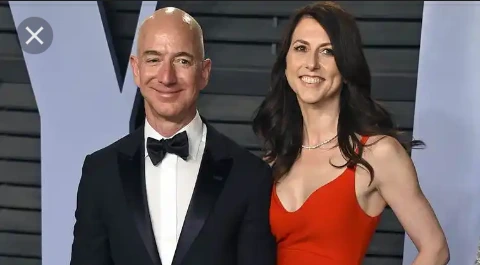 (Jeff Bezos and his ex wife Mackenzie)
He later worked at D.E Shaw, a firm where computers where used in stock marketing, this was where he met Mackenzie, his divorced wife who was also a Princeton graduate, they married in 1993. He also rose to the post of a senior vice president at D.E Shaw, this was where he made the discovery that changed the business industry.
His success story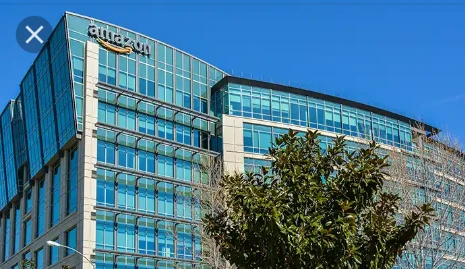 Internet was first created by the defense department, they used it to keep their computer networks connected during emergency or enemy attack, it was later adopted by government and academic researchers, but nobody has ever heard anything about internet commerce. Jeff was making an internet research when he observed that the number of internet users increased by 2300 percent in a year. He saw this as a good opportunity for a new type of business and started making researches and plans towards it. He checked the most ordered commodity by mail and found out that the mail order catalog for books doesn't exist, he flew to Los Angeles the next day to attend the American book sellers convention so he could learn everything about book business.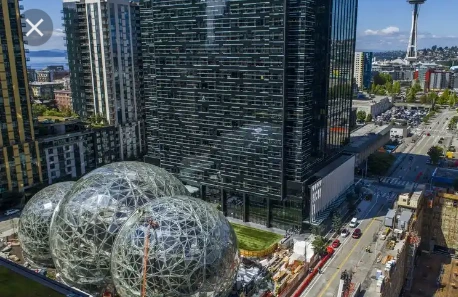 (Amazon headquarters)
He found out that book wholesalers had an electronic list for their books but there wasn't an intermidiary on the internet where books can be bought and sold. His employers weren't ready to go into that line of business, so he did it himself. He knew he was going to lose his position as vice president of D.E Shaw but he decided to take the risk.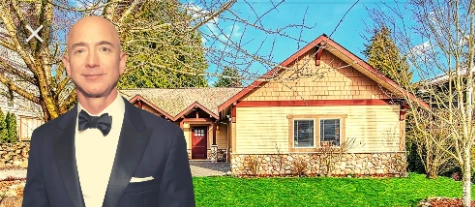 (The house where he first started Amazon)
He and his wife flew to Texas where they would have ready access to book wholesalers and people with computer talents which he needed for his new type of business, he later named his company Amazon because of the endless South American river and it's numerous branches. They set up a shop in a 2 bedroom house and turned the garage into a connection house. After testing the programs by himself, he asked 300 friends and acquaintances to test it again which they testified to it's perfection.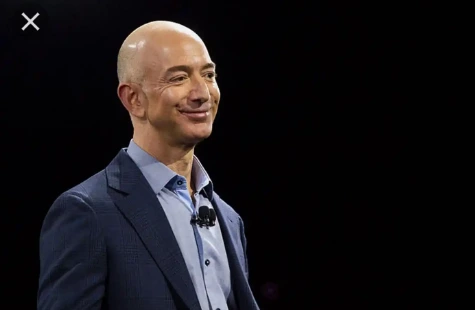 On July 1995, he opened his site to the whole world, the richest man at that time didn't know he was going to to have a rival. Jeff told his friends and acquaintances to spread word of his site. He introduced new features which the world has never heard before like one click shopping, customer reviews, email order be and many more.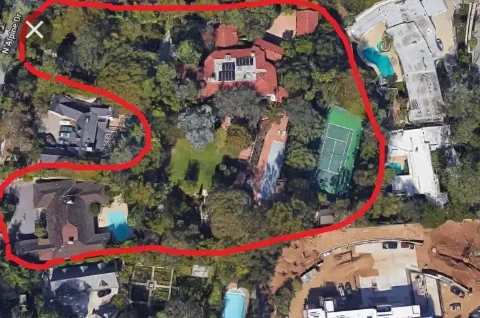 (Aerial view of his home)
The business grew faster than he expected and the leading booksellers at that time decided to join the internet sale race. Two years later, the value of shares in Amazon was greater than that of it's two biggest competitors combined and many internet based companies where trying to strike a deal with Amazon to help them control their internet traffic.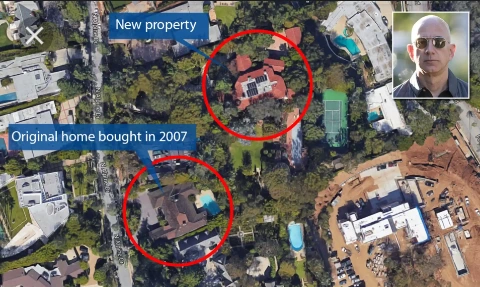 His parents where his first investors and he told them that there was a 70 percent chance that they would lose their entire investment which was a substantial amount of their life savings worth $300,000 but they said they weren't betting on the business but on Jeff. Ten years after Amazon was launched, they became billionaires and a third of the company shares was held by the Bezos family.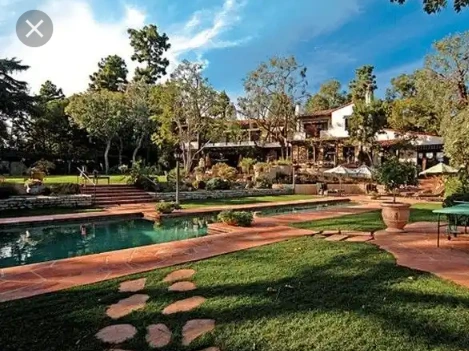 (The insides of his mansion)
At the beginning, he wanted to increase the market shares as soon as possible so that he could expand the profits, then he disclosed his intention to go from being Earth's biggest book store to Earth's biggest anything store. He did it and sold almost everything, ranging from CDs, music, videos, toys, electronics and any other thing you may think of buying online.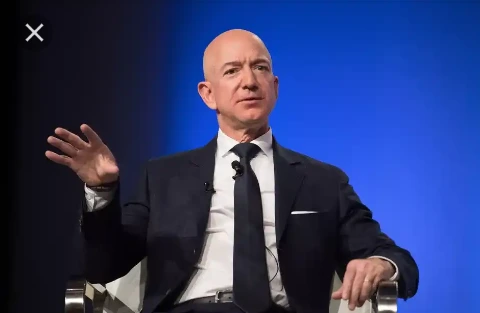 He moved into clothing business in October 2002 and partnered with many retailers. In September 2003, Amazon developed a search engine that focuses on commerce websites. He also launched a sporting goods store with over 3000 brand names. In year 2004, he founded an aerospace company called Blue Origin which majored in developing space crafts.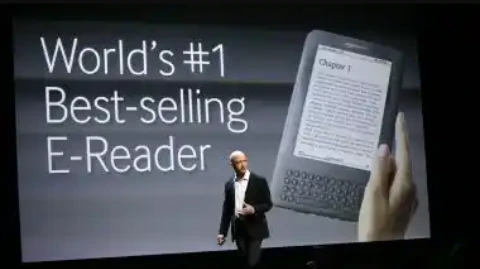 Later in 2007 Amazon developed a hand held reading device called the Kindle which was a massive hit as it enabled people to adjust font size, download, purchase and read books anywhere. He later signed a controller small deal with Wylie agency which gave Amazon the rights to the work of many authors.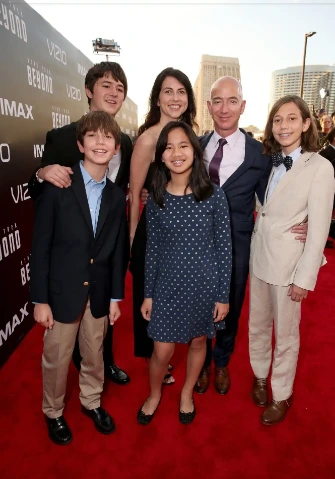 (Jeff Bezos, his ex wife and his children)
He later launched a newspaper company called Bloomberg and also bought many other companies which keeps increasing his net profits. At the end of year 2015, he later gained a profit of $107 billion and became America largest online retailer.
Conclusion
During one of his speechs, he said "I knew that if I failed, I would regret that, but I knew that one thing I might regret is not trying".
According to my little understanding, if I where the one that was a senior vice president, I wouldn't quit it for anything. That is the mistake most of us make till now, we don't sought after other opportunities because we are afraid of taking risks, most parents discover awesome talent in their kids but still cover it or force the child to pick a career he doesn't want or one that doesn't tally with his or her talent. If you or anyone you know have a big dream, please pursue it.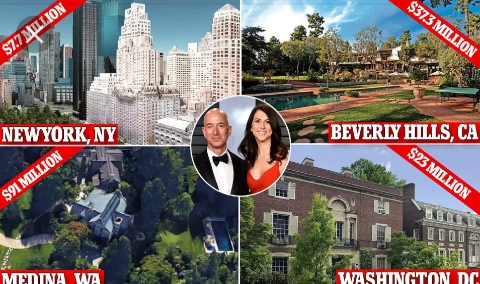 (Some of his properties)
The risk Jeff took was a massive one that would be a total loss if he failed but he did it anyway and succeeded, he divorced his wife recently and split a good amount of his fortune with her, but that didn't stop him from being the world richest man with a net worth of over $180 billion and it keep changing everyday till the extent that no one knows his exact net worth.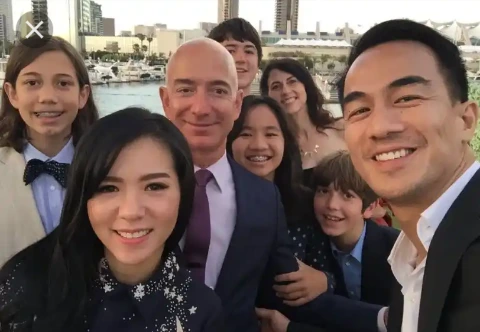 Though everyone in life has a predestined fate, but I pray each and everyone of us will succeed no matter how hard life seems to be.