Sports
Reason Why Klopp Encourages Steven Gerard To Celebrate Like Crazy Devil Against Liverpool

Reason Why Klopp Encourages Steven Gerard To Celebrate Like Crazy Devil Against Liverpool

Aston Vila will battleo it out with Liverpool in the English Premier on Saturday. And the Aston Vila's boss is the Liverpool's legend, Steven Gerard, who seems to be having a great start to life as Aston Vila's manager. Steven Gerard has been in charge of Aston Vila for four matches now, and he has won 3 of those four games, losing only to Manchester City by a 3-1 scoreline.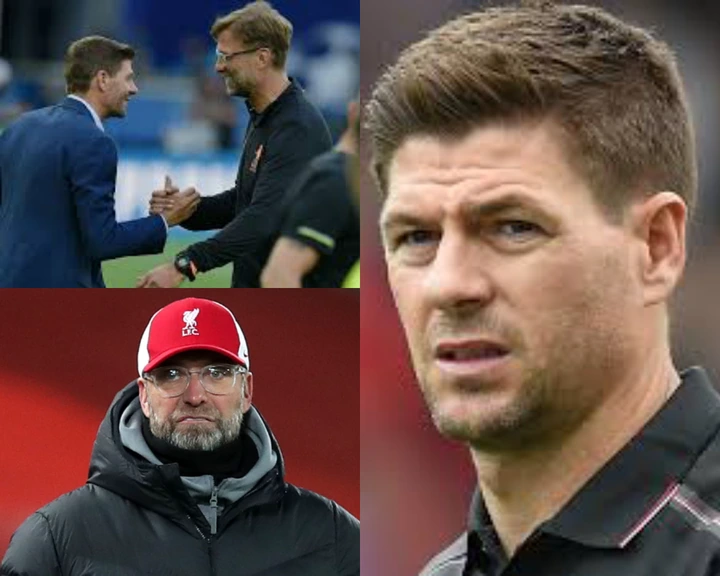 Gerard is returning to Anfield as a manager for the first time in his career and the Liverpool's boss, Jürgen Klopp, has encouraged him to celebrate like a crazy devil if his team scores against Liverpool on Saturday.
This will be an emotional return for Steven Gerard, who is regarded as one of the greatest players to have played for Liverpool, but Jürgen Klopp has urged him not to hold back his excitement because Anfield used to be his home.
Jürgen Klopp Encourages Steven Gerard to celebrate like a crazy devil if his team scores against them because he said he has celebrated against his former club before. In his statement, he said,
"I remember when we scored for Dortmund at Mainz, I forgot all about my story at Mainz and celebrated like a crazy devil. He [Gerrard] is allowed to do that as well, I just hope he has no reason for it".
It will be a dream come true for Steven Gerard to beat defeat Jürgen Klopp at Anfield, but can he celebrate the way that Jürgen Klopp has encouraged him to? This may not happen, knowing how he is still adored by many Liverpool's fans within England and beyond.
The question is, should he celebrate like Jürgen Klopp has encouraged him? Remember, Steven Gerard knows almost all about Liverpool, so he may claim the maximum points from them.
Leave your thoughts in the comments' section.