Review
Stop Spending Money On Biscuits – Learn How To Make Biscuits With These Recipes
Biscuit is one snack that is so much loved by children and can be found in so many homes. Making your children biscuits can be fun and will produce quality biscuits for your children
Biscuit is one snack that is so much loved by children and can be found in so many homes. Making your children biscuits can be fun and will produce quality biscuits for your children. Trust me, your children will thank you for this. With the recipes below, you can make beautiful biscuits for your children such as:
Sponge Fingers
Ingredients:
Eggs (8), Sugar (2 milk tin) and Flour (2 milk tins).
Procedure: Cream the egg yolk and sugar in a bowl until it is almost white in colour. Whip the egg white stiffly. Add a little of the egg whites to the egg yolk and sugar mixture, and cut in. Gently add your sieved flour and remaining of the egg white, mixing it gently. When it is well mixed, place a piping bag with 1cm plain tube and pipe an 8cm length of the biscuit onto a baking tray covered with greaseproof paper. Sprinkle with icing sugar, rest for 5 give minutes. Bake in a normal hot oven for 10 minutes. Remove the paper on which the biscuits are piped and place upside down on the table. Sprinkle little water in other to remove the greased paper you used in baking the biscuits. But, if you used silicon paper, there will be no need to sprinkle water before removal.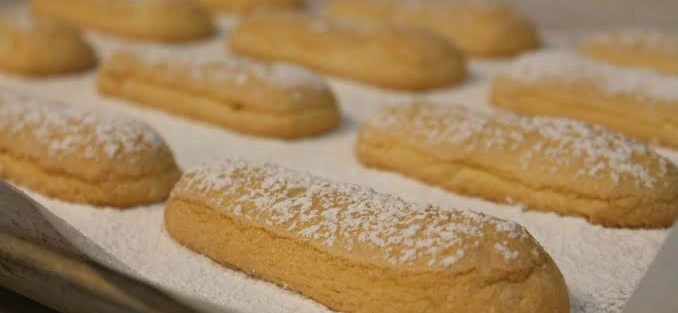 Piped Biscuits
Ingredients:
Unrefined sugar (1 milk tin), margarine (10 tablespoons), Eggs(2), vanilla essence /grated lemon zest(to desired taste), flour (4 milk tins) and ground almonds (4 teaspoons)
Procedure: Cream the sugar and butter until light in colour. Add the eggs gradually as you beat continuously, add vanilla and Lemon zest. Gradually fold in the sifted flour and almond. Mix well until it is suitable for piping. Pipe onto a lightly greased and floured baking sheet, bake in moderate hot oven for 10 minutes. When it's done, remove with a knife.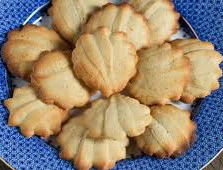 Short Bread
Ingredients:
Unsalted butter (8 tablespoons), sugar (2 tablespoons), plain flour (2 tablespoons), rice flour (1 milk tin) baking powder ( 2/4 teaspoon) that is, half teaspoon of baking powder. And salt (a little pinch).
Procedure: Cream the butter and sugar together until it is light. Add your sifted flour, baking powder and salt. Mix very well. Press the dough neatly into the prepare tin, smoothing the surface with the back of a spoon. Use fork to put a hole all through, cut in square shape and bake for 45 minutes. Leave in the tin until it cools enough to handle. Remove and place in an airtight container.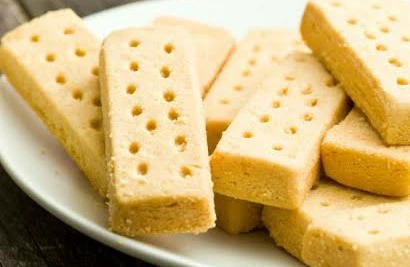 Chocolate Delight
Ingredients:
Plain chocolate (2 tablespoons), bitter chocolate (2 tablespoons), flour (4 milk tins), unsalted butter (14 tablespoons), castor sugar (3 milk tins ), eggs (4), vanilla essence (2 teaspoons) and finely chopped walnuts (1 teaspoon).
Procedure: Melt the chocolates on the top of a boiler and set aside. In a different bowl, sift together the flour, salt and set aside. Cream the butter until soft, add sugar as you continue to beat until it becomes fluffy. Beat the eggs and vanilla essence. Then, gradually add into the butter mixture. Add the melted chocolate, the flour and chopped walnuts. Divide the mixture into 4 equal parts and rołl each in 2 inches diameter log. Wrap tightly in foil, refrigerate until it is firm. With a knife, cut into small slices and place round on baking sheets and bake for 10 minutes.