Sports
The day Cristiano Ronaldo rejoins Man United will forever be the biggest event of year 2021

The day Cristiano Ronaldo rejoins Man United will forever be the biggest event of year 2021

There has always been this urge in many professional footballers to have their way into other football leagues before they end their Football careers. Several players made transfers this year to different clubs. The likes of Aguero, Sergio Ramos, Verane, Sancho, Lukaku & Messi all made transfers into another club this year. Though many people reacted to these professional players' transfer into other clubs and leagues.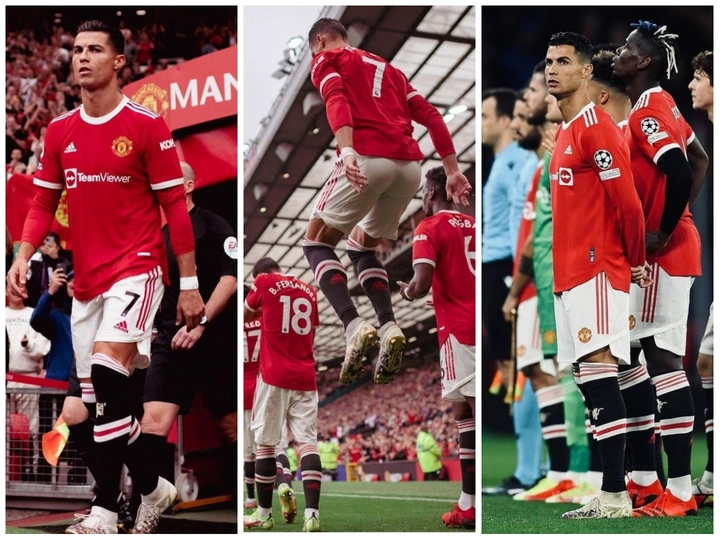 But when we talk about the biggest transfer this year, it should inarguably be that transfer of the five-time Ballon D'or winner, Cristiano Ronaldo, from Juventus to Manchester United. Many lovers of football will attest to the fact that Ronaldo has been one of the best players Manchester United produced in the football world. The 36-year-old Portuguese, earned his world-class recognition right from Man United before he moved to Real Madrid.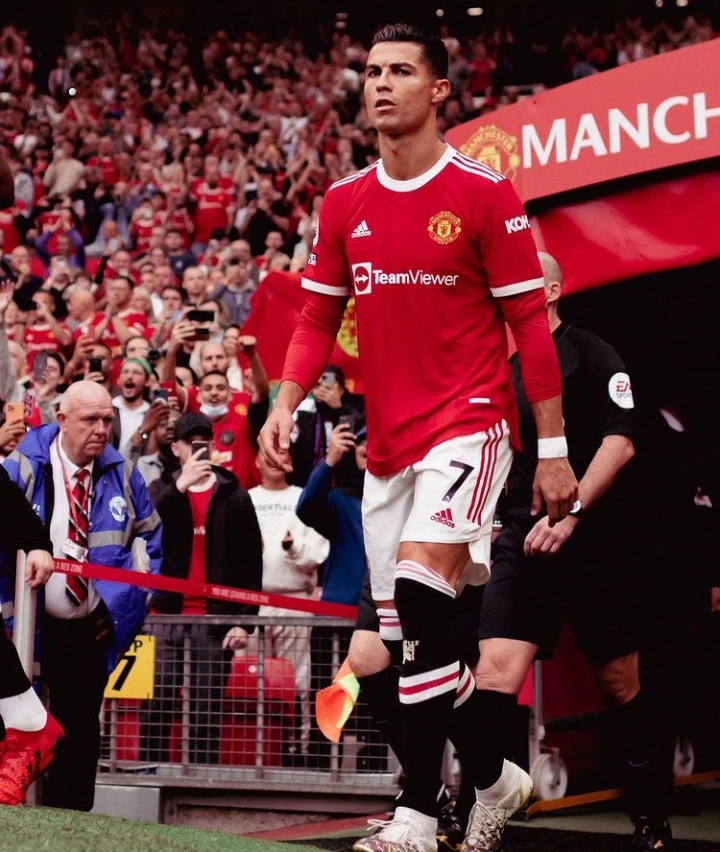 So when his return to Manchester United was announced, the world lost its peace and the internet was broke. On that strangest day in football history, Ronaldo's announcement post gathered 12 million likes on Instagram, and that made Ronaldo the first-ever Sportsman whose transfer announcement gathered such amount of reactions in the world.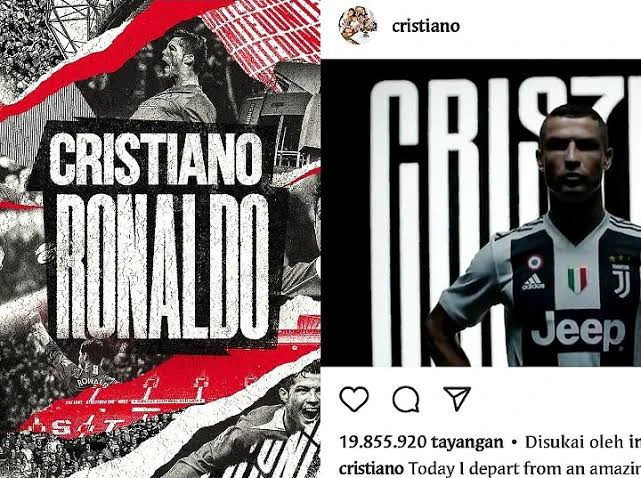 Cristiano Ronaldo whose transfer to Man United came a few weeks after Lionel Messi moved into PSG, swallowed up the news of the Argentinian moves into PSG and set a new story into the mouths of every lover of football across the world.
On the Portuguese' Instagram page, Ronaldo poured out his reasons for joining Manchester United again by giving the credit to the Red Devils legend Sir Alex Ferguson.
See what Ronaldo posted on that day below: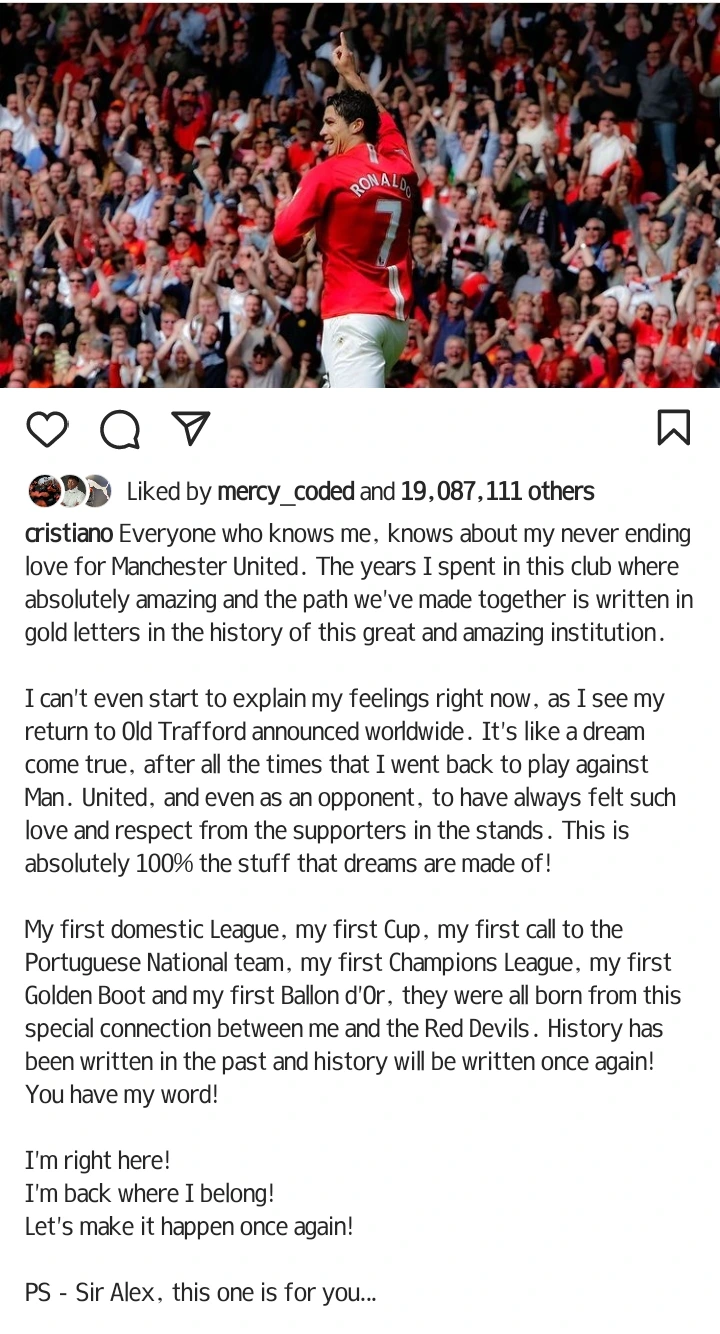 The bewilderment, the surprise, the joy, the amazement that took over the internet that day cannot be quantified. It was massively beyond what anyone can imagine.
Nothing of such has ever happened in football history. Nothing of such happened two decades ago, a decade ago, or a few years ago. It only happened this year, 2021.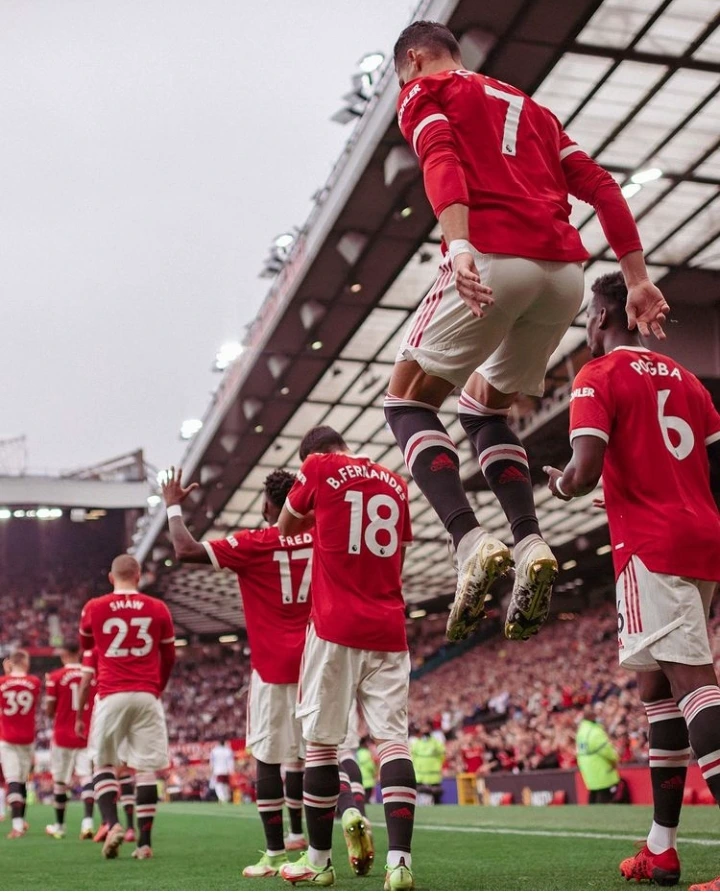 Without any doubt, the year 2021 will go down as one of the best years in football history, and in decades to come, people will always remember the most shocking transfer of all time, which is the move of Cristiano Ronaldo back to Manchester United from Juventus. We will never forget it. We shall all live to remember, that Ronaldo came back to Old Trafford, and on his debut, the 'beast' scored a brace in front of United fans.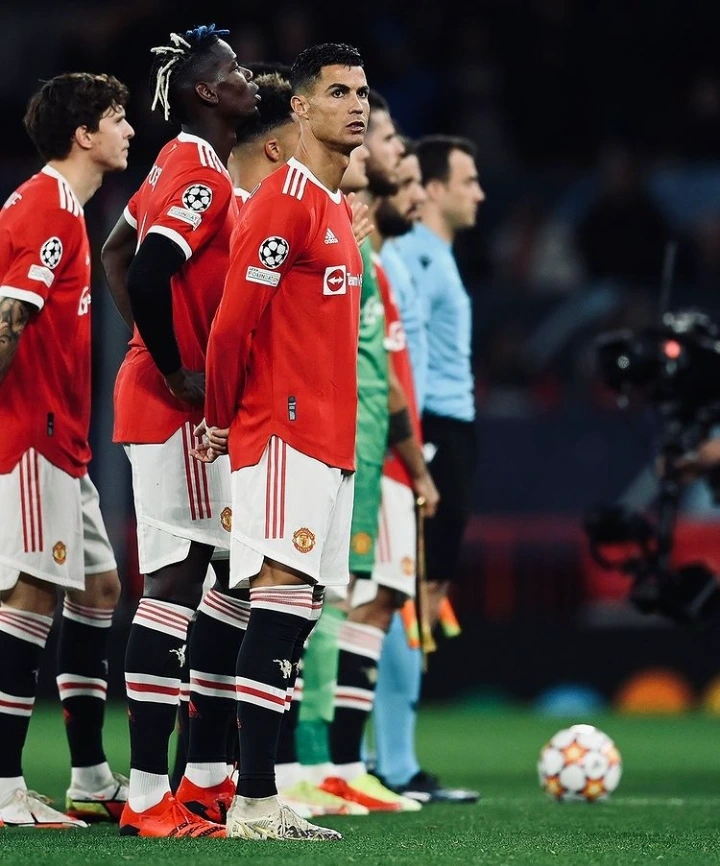 To make this more interesting, can you share where you were when the news of Ronaldo signing for Manchester United reached you?
I got to know about Ronaldo's signing after returning from a lecture room. I was so happy that day. Where were you?