Sports
UEFA Reacts As Ronaldo Matches A Champions League Record Set By His Former Teammate

UEFA Reacts As Ronaldo Matches A Champions League Record Set By His Former Teammate

Manchester United forward, Cristiano Ronaldo, matched Ikay Casillas Champions League record after featuring against Young Boys earlier this evening.

Ole Solksjaer decided to start Cristiano Ronaldo against Young Boys as he does not have the gut to put his key players on the bench for his first Champions League game of the season.

Manchester United couldn't go past the group stage last season and Ole Solksjaer can not afford to let that happen this term.

The Norweigian manager started Bruno Fernandes, Cristiano Ronaldo, Paul Pogba, and Sancho.

Ronaldo's 177th Champions League appearance was marked with an astonishing strike in the early stages of the encounter.

Bruno Fernandes provided the assist for Cristiano Ronaldo's goal. At the mean time, it is easy to say both players are beginning to flourish together.

Ronaldo is the second player in the history of the Champions League to play 177 games. Real Madrid legend, Iker Casillas was the first player to achieve this feet.

Ronaldo managed to reach this feet in just 17 years of active football. Ronaldo's started Champions League football in 2003 during his time at Manchester United.

The sensational striker moved to Real Madrid in 2008 after playing at Old Trafford for 5 years.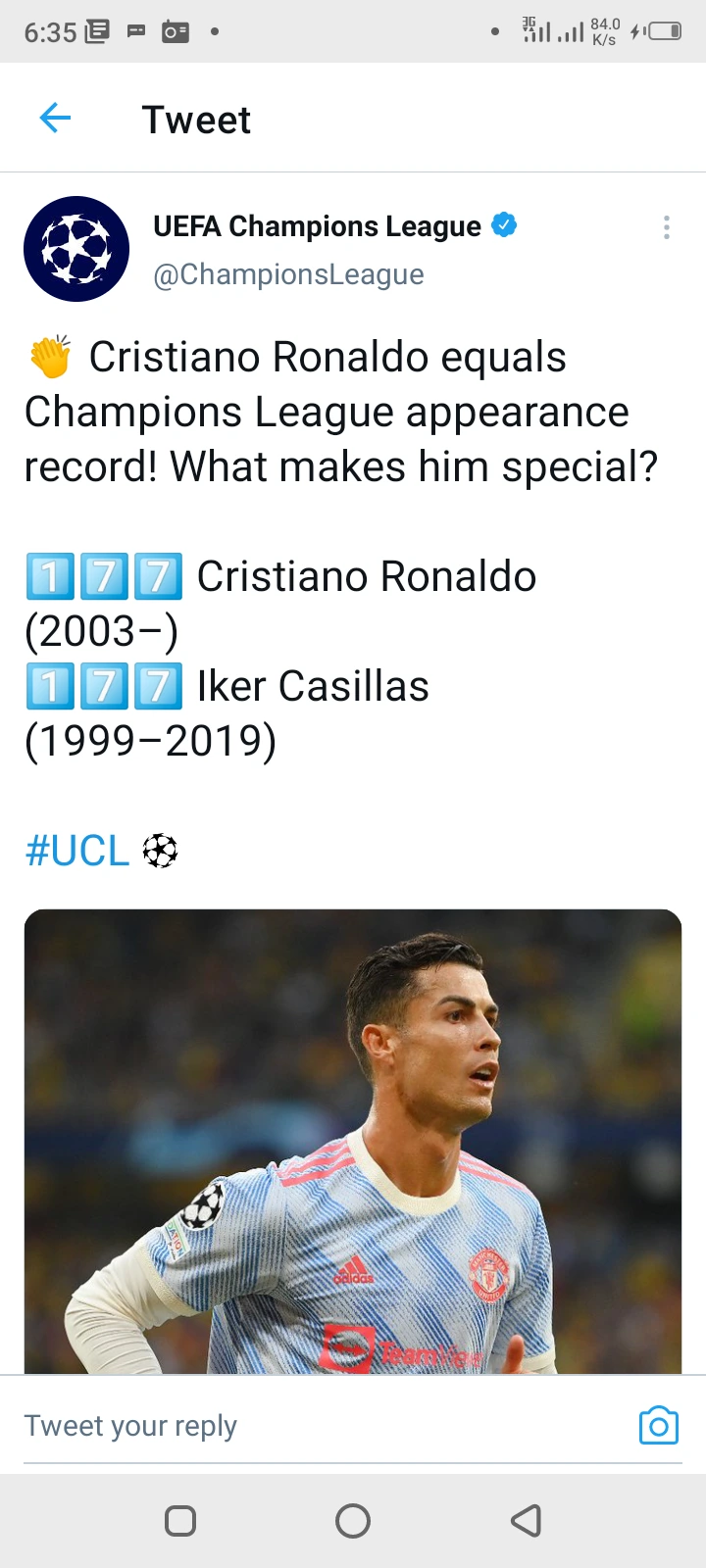 Considering the situation of things, it is clear to us that Ronaldo will definitely surpass Casillas' record this season.
However, I think Ronaldo's major concern would be to deliver goals for United this season and help the team win the Champions League.
The sensational Portuguese has broken numerous records in the last decade.
Can Ronaldo win the UEFA Golden Boot Award this season?
Considering the quality in United's team, I think Ronaldo can go on to win the Golden Boot this season.
Though, we still have some talented strikers across different teams in Europe. Ronaldo needs to be at his best once again to win the prestigious award this season.