Finance
Trending
You can start these 5 Businesses with thousand Naira and generate 500 hundred thousand Naira in a month.
Financial dependence is a really bad thing and believe me or not it sometimes leads to suicide especially if the person your depending on hurts you before given you.

You can start these 5 Businesses with thousand Naira and generate 500 hundred thousand Naira in a month.
You feel resentment or anger because the money you receive seems to come with strings attached, but you're too scared of being cut off to say anything. You have never supported yourself on your own. Kids and parents often have different ideas about when support should stop. In the MONEY poll, parents helping adult children generally believed kids should be independent by age 25, but acknowledged that in their own situation, 30 was more likely. Young adults put those ages at 27 and 32, respectively. Age does not matter, you can be 16 and choose to be financially independent.
Believe it or not with 5 thousand Naira you can become financially independent. Today i will list out five jobs you can start wit 5 thousand naira and earn millions.
Note: Hard work is the key, do not expect it to be magic.
Start Blogging
Blogging is a lucrative business in Nigeria you can start with 5,000 naira or even less. The #5,000 will be for the payment of the hosting provider. I can get you a hosting as low as #7,000 and I will also be glad to even help you to design it free of charge. A blog is a discussion or informational website published on the World Wide Web consisting of discrete, often informal diary-style text entries. Posts are typically displayed in reverse chronological order, so that the most recent post appears first, at the top of the web page. All you need do is invite people into your blog, and advertise for companies.
Start a beauty salon
Hair salons provide men and women with services to clean, condition, strengthen, cut, style and color their hair. Opening a hair salon requires that you meet local, state and federal licensing and permit regulations, as well as registering your business as a legal entity, finding staff and marketing your salon.Contrary to popular belief, not all salon owners possess a cosmetology license. Unless you will be personally performing salon services on your patrons, you are not required to carry any cosmetology certification. You can open a salon with just 5 thousand naira, it must not be a shop, you can start gradually at home and believe me you are going to make alot of money
Drinks and and pure water business
The weather is mostly always hot and so people are mostly always thirsty. With 5,000 naira, one can start a small scale drinks and water business by a popular bustop or road junction. You could even 'jazz' up your own by adding other more organic home-made drinks like zobo, smoothies and fruit juices.many believe this business is meant for the poor but that's a very bad mentality. One good secret about business is knowing what people want and giving it to them and another one is the demand of the product.
Buying And Reselling.
Generally, it's not illegal to resell an item that you have legitimately purchased. Once you have purchased something at retail it is yours to do with as you choose. for example my sister buys shoes fromjos at each price and then she exports to Bauchi and Gombe and also Benue via way bill and sells at price she gets her gain. there are alot of products you can buy and resell.
London Used Cloths (OKRIKA)
Okrika is cloths that are been used outside the country that was imported into Nigeria by some importers. About 48% of Nigerians wore Okrika but you won't know because they are first-class Okrika. The facts are that you won't be able to differentiate Okrika and ready-made if joined together. Many boutiques in Nigeria stock their shop with Okrika and sell them at a higher price. You can buy okrika cloths and resell at high price in the market.
 Liquid soap production.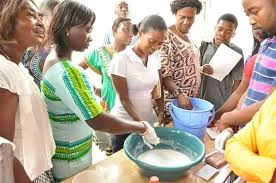 Obviously, the liquid soap business is profitable. You can make N15,000 from N5,000 liquid soap production. Therefore, you can reduce your price and approach supermarket owners to resell for you.
Liquid soap making process
SLS and STPP should be softened with 1.25 liters of water. Add soften soda ash, and caustic soda, nitrosol and mix it all. If you desired to use formalin add it at this stage. Add soften SLS, soften S.T.P.P.